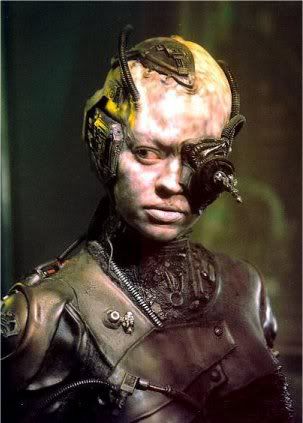 Guest Poster: Seven Of Nine

Greetings. I am Seven of Nine. The more obsevant of you humans will have noticed that this is the 800th post of Locutus' Journal. You may well ask why is he not writing this himself.
He was called out with Commander Riker and some of the other staff on an urgent Away Mission. I could see that he was about to start recording this message when he was requested to come. Locutus then said a few phrases that we do not allow on the Borg Cube and walked away.
With the Journal still running, I saw it as my duty to mark this occasion with my interpretation.
Naturally, numbers are irrelevant to the Borg. Come to think of it, irrelenvances are irrelevant also. I think in the Cube, that is the nearest thing we have to a Borg joke. After all, how can drones tell jokes to each other when we are all of one mind? Everybody would know the punchline.
I detract from my objective. We are here because of this being the 800th post of Locutus' Journal. Some of you may have read this for some length of time, and naturally would have been overjoyed at the time my glorious leader the Borg Queen or myself had managed an entry.
The Artificial Life Forms Convention back in October was the beginning to a lot of trouble for both the Borg and the Federation
http://jlpicard.blogspot.com/2008/10/artificial-life-forms-convention-part.html
Because of this, it started a war with the Cylon race . When the Cylons threatened the Alpha Borg Queen during a Borg meeting in November, trouble was starting.
http://jlpicard.blogspot.com/2008/11/borg-and-cylons-part-one.html
The Borg Queen warned Locutus of the threat in
http://jlpicard.blogspot.com/2008/11/borg-queens-warning-part-one.html
Then it was time for War is the Borg and Federation waged war on the Cylons.
http://jlpicard.blogspot.com/2008/11/enterpriseborg-alliance-part-one.html
Fortunately this was all resolved in time for Christmas, as the Enterprise held there annual Christmas Party in a holodeck that resembled a Borg Cube. Locutus had to play host to the Supreme Borg Leader, the Alpha Borg Queen.
http://jlpicard.blogspot.com/2008/12/enterprise-christmas-party-part-five.html
In February, the Borg Queen had started to implement plans for a Feng Shui design in her Cube.
http://jlpicard.blogspot.com/2009/02/feng-shui-in-borg-cube-part-one.html
And in...
"What's going on?" I hear someone say behind me.
"Greetings, Locutus." I say, "I was just completing your 800th post for you. Naturally, I didn't not expect you back yet."
"That seems clear enough." he answers in a somewhat sarcastic manner, "See, Seven, it's
Captain Picard's Journal
....that's me...."
"Other people contribute, Locutus." I answer.
"I agree." he tells me with a sigh, "I allow that to give it the scope it needs, even you and the Borg Queen. But it would have been good if you had allowed me to do the 800th post on my own."
"Numbers are irrele.." I start to say, but realise that this could be a mistake to say to a human. They are rather sentimental and like to reach milestones on their own.
"Time for Journal entry coming to an end."
the computer speaks out.
Locutus shakes his head.
"Happy 800th Post, Locutus." I say to him.
"Thanks Seven." he reples, with a slight smile.
Locutus also asks me to thank all his readers for visiting, and asks them to comment more, or he may get me to assimilate them.