Guest Poster: Erika Hernandez
With Queen Diana of the amazon planet Wondawowman making an official visit, the crew of the Rhode Island are all prepared. I'm even more worried when Ensign Karena tells me that her sister Nexa, who is with her mother Diana is a very mischievous sort.
I take her advice seriously, and with Commander Hathaway at my side, I have Karena and her husband Wesley Crusher next to me. After all, this visit is just an excuse to meet her daughter.
"Behave yourself, Mark." I say to the Commander, "After all, she is a very important person."
"Don't worry, sweetie." he whispers in my ear, "I'll be my usual self."
"That's what I'm worried about." I retort.
The Royal Shuttlecraft lands in the bay, and the four of us step forward to greet our guests.
"Greetings, Captain Hernandez." says the Queen, "It is a pleasure to visit your starship."
"Thank you, your majesty." I start, "May I introduce..."
I am about to introduce Commander Hathaway, but as he is a man, the Queen is not interested. She looks instead at Karena.
"Blessed Daughter!" she exclaims, "It is such a pleasure to see you again."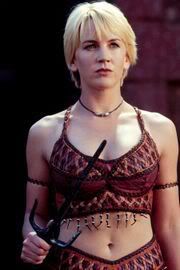 "And I you, mother." she replies, "I miss you so much."
The Queen eyes Wesley, then almost relectantly greets him, then turns her attention back to Karena.
"Daughter, has your Life Servant been fulfilling his duty?" she asks firmly, "I hope to have a Royal Granddaughter before long. The family line must carry on."
Karena goes rather red-faced at this.
"Wesley and I have being trying, Mother." she answers, "I hope we can provide you with what you want soon."
Wesley is trying to look elsewhere, as if the ground will swallow him up.
Eventually another figures comes out from behind the Queen.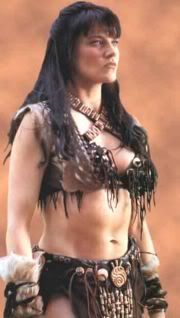 "Captain." says the Queen, "May I present my other daughter, the blessed Princess Nexa."
Nexa comes forward, gives me a cursory nod, and looks comtemptously at Karena.
"Greetings, Sister." she says with venom.
"Sister Nexa." Karena replies.
These two have a dislike for each other...big time!
Nexa winks at Wesley and then looks at Mark Hathaway.
"My." starts Nexa, "I was unaware that you had such handsome men on the ship. Commander, would you care to give me a tour?"
Hathaway looks transfixed, as if he has just won the Galactic Lottery, puts his arm with her and the two walk out of the shuttlebay.
All of us look rather stunned. I am beginning to know what Karena meant when she warned me about Nexa.
Things might get rather difficult. What do I do with a tricky Princess and a Commander whose hormones are high?
To be continued...