"Who's this I'll be seeing?" I ask Riker.
"Apparently, Captain." he replies, "It's a reporter from the
Galactic Gazette
. I'm told he wants to do an interview."
I groan.
"I suppose this is another Public Relations gimmick from Starfleet?" I tell him, "They are always trying to make what we do more accessible to the public. I suppose you'd better show him in."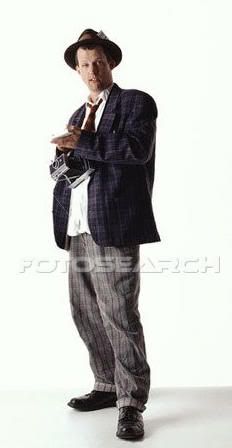 A man in an ill-fitting outfit, carrying an ancient camera and wearing a brown trilby with a 'Press' card inserted bounds into the Ready Room, full of life.
"Gee, this is PERFECT!" he exclaims, "This place looks like where all the decisions are made, now if you just sit at your desk and look important, I'll take this picture. This should be a great cover shot!"
The flash goes off with such force the room lights up and my eyes take five minutes to readjust.
"Sorry about that." says the reporter, "I'm Jeff Raven, hottest reporter at the Gazette. Are you Captain Picard? I hope your bald head didn't affect the flash image on the picture?"
"Err...yes." I say, "You ought to get permission before taking photographs, some places on the ship are Classified."
"Yeah, yeah." says Raven, "I've always wanted to do a feature in this ship. I finally wore the Editor down into giving me a chance."
"You mean he gave up." Riker comments wryly, "I can't help noticing, Mr Raven, that your clothing and style is rather dated. Not quite 24th century."
"Call me Jeff." he replies, "Yeah, well I love those old early 20th century movies that featured a zany reporter. I've modelled myself on them."
"All right Mr Raven." I tell him firmly. You will be escorted around the ship, and I will answer some of your questions...but only some."
"Sure, sure." Raven answers, "Let the show begin."
At that moment, Deanna Troi enters the room. Raven's eyes bulge out.
"Wowza, wowza, wowza!" he exclaims, "If the gals are like this, I'm in for a real treat!"
Deanna promptly slaps him on the face. This only seems to make Raven smile even more.
"Come on, Captain." he urges, "Get a move on."
I wince. I might be tempted in giving him a practical demonstration as to how an airlock works.
To be continued...