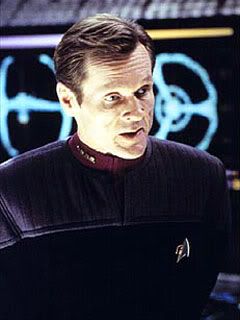 Guest Poster: Sloan
Having come aboard the
Enterprise
to ask a few individuals if they would consider joining my group Section 31 hasn't been an easy task.
Naturally, I've come up against the predictable response from Captain Picard. His defensive blustering has always been a hazard, and a thorn in the side of Section 31. We always seem to come up against him in our honest subversive activities. It's all perfectly legal, as long as no one finds out about it.
I should have guessed that the Borg drone would give me trouble. After all, they are not real members of Starfleet, and it's the Borg who are on our list of people to eliminate.
"Let me see Lietentant Commander T'Pol." I dictate to Picard; he looks amazed.
"She is from the mirror universe of two hundred years ago!" he exclaims, "I don't see why you.."
"Just let me see her, Captain." I say with a sigh.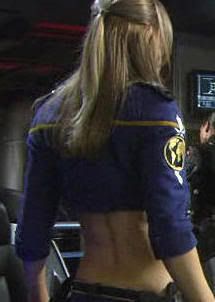 T'Pol enters, and views me with curiosity.
"Hello, T'Pol." I say, "My name is Sloan. Now I know you haven't been on the
Enterprise
long. I want you to know that there is another part of Starfleet that might appeal to you more, considering the tough environment that you've come from."
T'Pol leans forward. "Tell me more." she says.
I might have a recruit here. It'll mean a big bonus in my paycheck if I do.
"Well." I continue, "Section 31 is a group within Starfleet that pays little attention to standard rules. We have our own missions in which to destabilise certain alliances and create situations to suit ourselves."
"It sounds promising." T'Pol says, "Do I get to be in charge?"
"Er, not right away, T'Pol." I answer, "But after a while, if you are sneaky enough, you may attain that."
"In the Terran Empire." T'Pol says proudly, "We get promoted by using a dagger on our superiors when their use is over."
She is starting to worry me. I can imagine that dagger coming my way and her taking my place.
"Perhaps you aren't quite who we want in Section 31." I say hastily, "Thanks for coming in."
T'Pol issues a few Vulcan expletives and walks out. Picard laughs.
"Too worrying for you, Sloan?" he says, "Don't you think you can handle her?"
I glare at him. "There's still one more I want to see. Send in Ensign Britney."
Picard laughs again. Britney enters.
I'm glared at with suspicion again. Britney sits down, leans back and puts her Doc Marten booted feet on the table.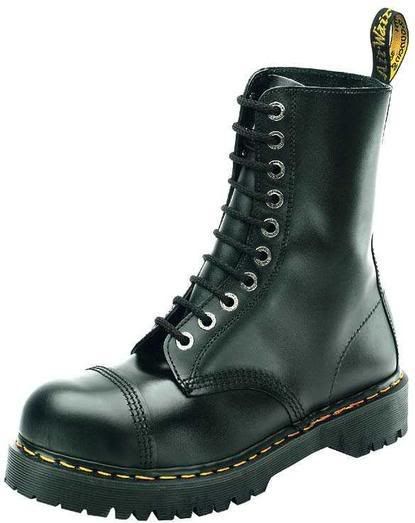 "Who are you?" she asks, as Britney takes the chewing up out of her mouth, "You look kinda suspicious."
Picard snorts with laughter.
"I'm Sloan, Britney." I tell her, "And I'm from Section 31. It's a part of Starfleet you can go to carry out skills to your potential. No more staying in the brig. We don't punish our operatives for minor transgressions like they do here on the
Enterprise
."
"Sounds cool." Britney answers, "When do we start?"
"Right away." I reply, "But what do you mean
we
?"
"Well, I'm not leaving the Enterprise without my sista!"
"You don't have any relatives on board, do you, Britney?" I ask with a puzzled look.
The Deltan sighs.
"Not my
sister
." she answers, "I mean my sista! My number one friend, T'Pol."
"I'm sorry, Britney." I tell her, "But she can't come."
"Then I ain't interested!" Britney says sharply, and puts the chewing gum back in, takes her boots off the desk and walks out.
"That was a failure, Sloan." laughs Picard.
"It may well be, Captain." I warn him, "But Section 31 is growing. Sooner or later it will dominate."
And with that, I vanish out of the Ready Room, just like a shadow, leaving Picard to clean up his Earl Grey soaked lap.
---------------
Author's note:
This is the 498th Post. Look out for the

500th

Post
commencing Sunday night!