We are all being forced by Admiral Sawyer to listen to Damon Tik give a nauseating lecture on profit and how much it means to them, with all their Rules of Acquisition.
Lunch has just passed and we are ready to resume. Tik asks if we have all bought the Quadrophonic CDs, holographic DVDs and computer instruction manuals to Ferengi profit making that his underlings have in boxes outside.
-------------
"Latinum is so important to us Ferengi." starts Tik, "Let others keep their reputations...we want the latinum (
ROA 189
). Even a blind man can recognise the glow of latinum.(
ROA 123
)"
"Have you ever thought of donating your profit to a good cause, Damon?" asks Jadzia.
"There's nothing wrong with charity, madam." replies Tik, "...as long as it ends up in your pocket." (
ROA 144
)
"I can't stand much more of this!" Bev comments to me, "Jean-Luc, get him off the stage; his schemes are not in line with Federation policy."
"I agree, Bev." I say, "Admiral Sawyer is mistaken if he thinks this lecture is useful in promoting intergalactic harmony. It only causes animosity."
Before I move to get Tik off the stage, a woman enters the room. She is Ambassador Sel, a Kovan representative.
"I just had to see this lecture." she declares softly, "I've heard so much about the Ferengi; I just
love
their large ears."
This comment destabilises Tik, who was saying that you can't make a deal if you are dead (ROA 125).
"You look very attractive, madam." Tik says to her.
"As do you", she replies, "I am Sel. Could you tell me all about
oo-mox
? I've been fascinated about that."
This excites Tik to a fever pitch. Oo-mox is the procedure where a female rubs a Ferengi's ears. It is considered highly erotic.
He runs over to her, and her hand touches his ear.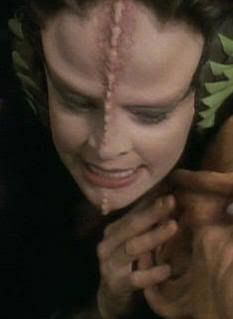 "They feel
beautiful
." purrs Sel, "I'd love to do this
privately
, Tik."
"S-so would I. You have a wonderful name. Sel is just right for a Ferengi."
With that, the two start to leave, but Tik's underling calls out.
"What about the lecture, Damon?" Dak asks, "Remember, she can touch your lobes, but never your latinum." (
ROA 40
)
"Remember also, Dak" Tik replies, "Beware the man who doesn't make time for oo-mox." (
ROA 223)
Both Tik and Sel disappear from the lecture hall eagerly.
"I think we've learnt a lot, Number One." I tell him, as we leave, "And Tik has done even more so, as one of the unwritten Laws of Acquisition I've heard is 'Money is money, but females are better'."
"I'll go along with that one!"Riker laughs.