Guest Poster: Data
At the moment, I am in some distress.
Due to a rather awkward crash-landing of the shuttle, caused by the failure of the retro landing gear, I am slowly making my way to a nearby town on the planet Rhysus III.
I expect the
Enterprise
to rescue me before long, but I need repairing now. The crash landing damaged my left leg and internal systems. When I performed a Level One Diagnostic upon myself, it informed me that I would go into permanant shutdown if the damage was not repaired very soon.
It is fortunate that I do not have my emotion ship turned on right now, otherwise, I would be in a state of 'high panic', as I believe it is called.
I see that the city is not very advanced. This is a concern, as they may not have the capability to deal with an android with positronic bodily problems.
Then I approach a building that may be able to help me.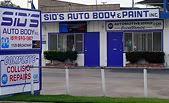 Sid walks out into the forecourt. He is the technician who has been able to help the Enterprise out with his unorthodox and 20th Century ways. He recognises me.
"Hello mate." he says, "Gordon Bennett! You look worse for wear, Data my old chum. Let's get you into the Body Repair Shop and see what we can do."
"Thank you, Sid." I reply, "I did a Level One Diagnostic and found that the positronic generator is malfunctioning and requires..."
"Yeah, ok." he says , "Well never mind that, get up on the workbench and let's take a look at you."
I lie down on the bench, and Sid gets a spanner and screwdriver out. He starts tapping my leg, arm, chest and head.
"Yeah, well the watchemacallit has gone for a burton, mate." he informs me, "I might have another on the shelf here."
Sid then unscrews my left leg, removes it, and opens up part of my head.
He taps inside lightly with a hammer. My other leg shoots up in the air.
Sid puts my left leg on the bench, gets a chisel, then a hammer. I hear a loud banging. This concerns me.
"Do you think it is wise to use these implements, Sid?" I ask, "They are delicate parts."
"Don't worry, mate, you're in good hands."
Sid brings the leg over and screws it back on; he then taps inside my head again. This time, my left leg rises.
"I'll just put this fuse inside your head, mate." Sid informs me, "You should be ok now."
I perform a Level One Diagnostic to find that I am functioning perfectly.
"Thank you, Sid." I tell him, "I was unaware you had such a knowledge of positronics. Dr Soong would have been proud of you."
"It's nothing, mate." I tells me, "Just a bit of basic engineering that I picked up in the magazine
Junior Engineer
."
The
Enterprise
sends a message saying it will be picking me up in an hour. As I leave, Sid tells me he will forward the bill to Starfleet.
"Parts and labour don't come cheap, mate."