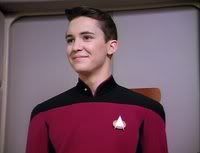 Guest Poster: Wesley Crusher
Gee, I'll never understand women.
Karena walks out in a huff about the Academy rule of being unable to marry, then after she hears that her mother, Queen Diana of Wondawowman wants to talk to her on the video monitor Karena rushes in. She locks the door, because as a man, I'm not worthy of listening to discussions between Amazons.
Shortly after, the door opens, and Karena has a bright smile on her face. I sense trouble here.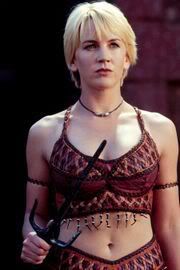 "Darling Wesley!" she exclaims, "My mother has found a way of us getting to marry very early!"
My heart sinks.
"The Queen has pressurised the Academy Officials " Karena continues, "They say that if we can fasttrack our studies, we can take the exam early, graduate, and then marry. Isn't that wonderful, pumpkin?"
I feel faint.
"Err..yeah." I reply, "It certainly is, honeybunch."
While Karena goes waltzing off, singing
'I'm Getting Married In The Morning.'
and
'Chapel Of Love.'
, I run to the videoviewer to call Mom on the
Enterprise
.
"I've got big problems, Mom!" I exclaim, "Karena and her mother have found a way to beat that rule that you and Captain Picard set up."
"Careful, Wes" she replies, "You don't want Karena to overhear that. You life won't be worth a used up dilithium crystal if she attacks you with that spear."
I then tell Mom all what Queen Diana has done.
"This is tricky." Mom says after thinking, "You will have to take the Starfleet Exam. If you fail, you will be set back in your studies. If you succeed, you will be an Ensign...but married to Karena and be her Life Servant."
"What can you do, Mom?" I plead.
"Well, I can urge that the Exam be set to early next year so that the two of you can study for your exams."
"But honeybunch and I...I mean Karena and I will eventually get married." I reply.
Mom looks at me closely, as if she has just caught my hand in the cookie jar.
"Are you SURE you don't love Karena, Wes?" she asks, "You have a pet name for her, and couples only do that when they are in love. I think you love Karena, but can't bring yourself to admit it."
I go very red faced. Is Mom right. Do I love Karena after all?
"I'll leave you to think about it." Mom says, "I'll get the Exams put to early next year."
I think about what Mom says as I leave the videoviewer room. Karena approaches and smiles warmly, her figure is curvy. The amazon puts her spear down and starts to kiss me, but I kiss her first.
Mom is right. I DO love Karena.
"Oh, honeybunch." I exclaim.
"Oh, pumpkin!" she replies.