It's good to be back on the
Enterprise
.
After the recent events, where I have been locked up and put on trial, there were times when I thought I'd never be sitting in the captain's chair again.
Looking in the logmemo, I can see that Riker has put in an order to Starfleet for two dozen donut machines to be installed around the ship.
Well, I think that request can get lost into cyberspace. Sometimes I think he did not reckon my chances of being set free were that high. He also put an order in for a captain's chair that was more his size.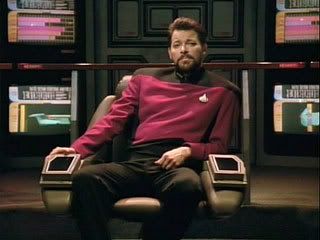 Ah well, another one for the cyber wastebin!
Bev enters.
"It's good to see you here again, Jean-Luc." she says, and gives me a kiss.
"It's just as good to see you here, Bev." I reply, and reciprocate her kiss, holding her gently. A discreet cough is heard in the distance.
It's Worf.
"Sorry to interrupt, Captain." he says, "Here are the latest security reports that you asked for."
Worf leaves as Bev and I straighten our clothing.
"Klingons have no sense of timing or tact." I tell her.
"Never mind, Jean-Luc." Bev tells me calmly, "We can go on a date tonight. The
Enterprise
cinema is premiering
Die Hard 42
tonight. It's the one where terrorists break into the Old Actor's Home, and John Maclaine has to free the hostages with his zimmer frame."
"It sounds good, Bev." I reply, but let's sit away from they others. Riker & Deanna never watch the movie, Worf is always complaining to Jadzia that events on the film would not happen in a Klingon movie, Trisha Lewis is always asking Geordi to stop watching the movie and kiss her, Jennifer Baxter is having to explain the story to Data, Seven keeps telling Reg Barcley that resistance is futile and T'Pol and Ensign Britney are always cheering for the bad guys."
"Aren't either of them in the brig?" Bev asks.
"Not right now." I answer, "But they will be if they start throwing popcorn at the other cinemagoers, use their Com badges to talk or put their feet upon the seats in front of them."
"That's a little harsh, Jean-Luc."
"You wouldn't think so if you had Britney's Doc Martin boots lying on your collar, like I did last time."
"I guess you're right." agrees Beverly, "Incidentally, have you installed the holo-emitters in the cinema?"
"Yes." I reply, "They are throughout the ship."
"That's good." Bev tells me, "I know Guinan wants to take Vic Fontaine on a date. During the intermission, they plan on selling drinks and ice cream."
I sigh, and kiss Beverly again. "See you at the cinema."
------------
Several hours later, I exit the cinema with Beverly, popcorn falling from my collar and boot impressions on my neck. I talk to Worf.
"Get the brig ready, Mr Worf." I tell him, "T'Pol and Ensign Britney are going in...again."