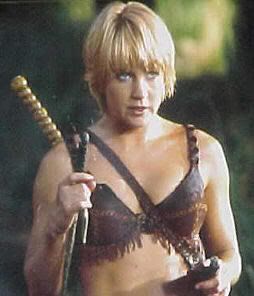 Guest Poster: Karena
I must admit, I am getting very annoyed. One does not want to be around when an amazon from the planet Wondawowman gets annoyed, believe me.
While I've been at Starfleet Academy as a Cadet, I have fallen in love with Wesley Crusher, who has been my servant since I arrived, The lecturers told him he should help me start here. Since then, I have chosen him for my Life Servant. I have got engaged with Wesley and plan to marry him, so that he may serve me throughout our lives.
I think something has been blocking my happiness. The Academy officials say that we cannot marry until we both graduate from there. I had never heard this rule before, and suspect it has been made up. Possibly even by Wesley's mother, Beverly, or Captain Picard.
My mother, Queen Diana is pressurising the officials to let us get married. After all, it was her financing that got the 'women only' lecture hall built. Armed guards prevent men entering.
"I still say your mother or the Captain stopped us getting married!" I tell Wesley, as he irons my clothes. He looks guity. It's not a sign to read easily, as he always looks like that.
"No, honeybunch." he replies to me, "Just be patient. We don't need to get married in a hurry. If we love each other, we can wait until later."
I go off in a huff. Wesley always says that to me. It's like hearing one of those old vinyl Earth records of the 20th Century where the needle gets stuck. Except it's not so repetitive as Wesley.
Going through the grounds, I come across Boothby the gardener. I tell him my problem.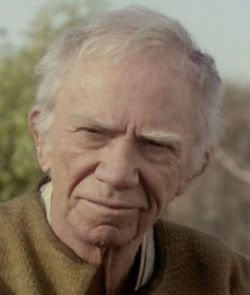 "I've heard it all before, Missy." comments Boothby, "Young lovestruck women see the Cadet of their dreams and get blinded by reality."
"But I love him, Mr Boothby!" I cry to him. This is most unseemly. An amazon should not be crying, especially in front of a man.
"Don't worry, Missy." smiles Boothby, "I won't tell anyone you cried in front of me. I know you Amazons need to keep a tough image. Listen. Just keep prodding him with that spear of yours, and the officials. They'll come round."
I head back to my quarters, feeling a little better.
Weasel Wanda, the Academy snoop comes to me.
"I've heard your mother, Queen Diana, has just called on the video screen." she says, "She asks you to call back right away."
I wonder what she wants?
To be continued...

But before you go,
Serina Hope
has sent a meme asking a group of people what is on their desktop. Here's mine.... a lovely picture of Nicole Kidman