There's nothing like relaxing with a cup of hot Earl Grey tea, with classical music piping through in my Ready Room. It's so rare I have these opportunities.
Suddenly, I feel a gust of wind.
"Good evening, Captain."
Naturally, I drop my tea. It all goes in my lap, which makes me yell out in agony.
I turn round; it's Sloan.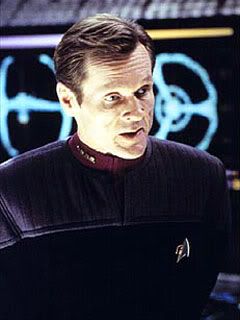 "I'm sorry if I disturbed you, Captain." he says, "But there are a few matters I need to sort out here on the
Enterprise
,"
"You're not trying to recruit me again for that shady organisation of yours, Section 31?" I ask, "Because if you are, Sloan, you're wasting your time."
"Section 31 is a very valuable part of Starfleet." he replies, "We may do a few missions that are not quite the way you normally do things. Actually, I am not here to recruit you."
"Then what ARE you here for, Sloan?" I ask, "I don't like you, and I don't like you on my ship."
"Don't be awkward, Captain, but I'm here to interview a certain number of staff whom we think might be eligible for membership of Section 31."
"I won't let you seem them!" I state firmly.
"It's no use you being stubborn, Captain." Sloan says with a smug smile, "I'm here on the orders of 'certain' Admirals within Starfleet who are secretly members of Section 31. You won't be able to countermand an Admiral's orders."
"But..." I start.
"Just let me talk to them, Captain." he informs me, "If they refuse, I'll just leave."
"They won't want to join you" I say confidentally, "No one likes the evil ways your group acts."
"Then you shouldn't have a worry." answers Sloan, "Send Seven Of Nine in."
Seven clanks in, views Sloan suspiciously, and sits down.
"Hello, Seven." Sloan stats, "My name is Sloan, and I represent a Starfleet group called Section 31. We are asking if you would like join us. There are..."
"Section 31" interrupts Seven, "My studies into human behaviour and Starfleet practice indicate that this is a subversive group dedicated to the overthrow of other species and keeping it for humans."
"Well you are interested in the overthrowing of other species." comments Sloan.
"That is true." replies Seven, with rising anger "But it also includes YOUR species. I am here on the assignment of the Borg Queen, and do not wish to work for another human! My best friend
Sky
and I both believe all humans should be removed!"
With that, she gets up and storms off, leaving Sloan flustered.
"I told you no one would join you." I say to Sloan with a smile.
"Don't be too sure yet, Captain." he replies, "There are some others on my list I want to see."
To be continued...

---------------Author's note:
M C Pearson
has cruelly given me this meme to highlight where I was 10, 20 and 30 years ago. This is going to be a dull one, Mimi!
Now, this year, I have been on a cruise to Iceland, Norway, the Netherlands and Belgium. My father and I had just had our bathroom completely done.
1997: Not a good year, as my mother had been very ill for some time. Naturally, we did not go anywhere. The company I work for had a reorganisation and I had been in the Dudley office for two years.
1987: Working in the local office of my company. In two years time we were to transfer to the centre of the city for six years.
1977: Silver Jubilee year in Britain. There were many street parties. In the local office, where I had not been long, everyone wore union jack hats outside, and lots of fun was had outside. A happy year.