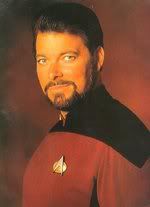 Guest Poster: Will Riker


As the ion storm on the planet was intensifying, we think the safest thing is the bring the Cap, Dr Crusher, Geordi and Worf back right away.
That;'s not exactly what we get back...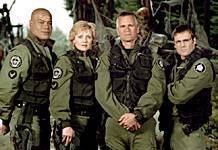 Four figures dressed in green look around; a silver haired man, another in spectacles, a blonde woman and a strange man with an insignia on his head.
"Oh for cryin' out loud, Carter!" says the silver haired man to the woman, "Where have we ended up now?"
"I don't know, sir" she replies, "I dialled the right gate number."
I step forward and introduce myself as Commander Will Riker of the starship
Enterprise.
The silver haired man introduces himself as Colonel Jack O' Neill of Stargate SG1. Eventually, it transpires they are from the closing years of the 20th Century on Earth.
"I've never heard of Stargate Command." I tell the Colonel.
"Ah well, we keep things very hush hush and classified." O'Neill replies, with a wry smile, "We can't go telling about it to every Tom, Dick or Harry."
"Indeed" comments Teal'c, "We have saved the earth from the Gou'ld on many an occasion."
"Perhaps you would like something from the replicators?" Deanna asks the group. O'Neill looks alarmed.
"Replicators?" he says worryingly, "You have Replicators on this ship?"
We certainly do." Deanna replies, "They serve our every need on the Enterprise."
SG1 start to look ready for action.
"Get your machine guns ready, team." O'Neill tells them, "We'll soon get those bugs wiped off the ship. Carter, you're with me, Daniel, you go with Teal'c."
"Hold on, Colonel." I say, "I think there has been a breakdown in communications. Replicators on this ship are not threatening, and are clearly not the same as you've come across."
After we both define our versions of replicators, the Colonel is happy. I must admit the Replicators he mentioned sound scary.
We go back to talking about them being from the past.
"Since I deal in things from the past, Jack" says Daniel Jackson, "This is hardly my forte. It 's more like Sam's. She deals with advanced technology."
Samantha Carter's eyes light up like Deanna's would if she were in a chocolate shop as she sees all the technology.
"What does this do?" she says to Data, indicating the transporter.
He explains it's function to Major Carter. Colonel O'Neill looks in amazement.
"Holy Schmoly!" he comments, "A talking robot! You guys have got some swell set-ups here."
We send them to the holographic doctor to get a medical check-up. In the mean-time, I talk with Data.
"How come we never heard of Stargate Command going in the late 20th Century, Data." I ask, "From what I hear, they travel to planets and accomplish far more than I ever thought humans could be capable of doing then."
"Indeed, sir." replies Data, "It may have all been highly classified in the deepest vaults of secrecy. There is another theory that when the ion storm was at the peak, the Captain, Doctor Crusher, Lieutenant Worf and Lieutenant Commander LaForge could have crossed through the Reality Barrier."
"The one that started breaking a while ago." I tell him, "And swapped them for this four. It's very possible. Let's see how they get on in medical."
----------------
In SickBay, the EMH is looking very distressed. He slso starts to complain that Colonel O'Neill tried to check if the doctor was really there when he found he was a hologram.
"I've never seen anything like it." the EMH tells me, "That man has a snake in his stomach!", indicating Teal'c.
"Oh, that's Junior." calls out O'Neill, "He's there to keep Teal'c company."
"Actually" Teal'c informs me, "It is my Gou'ld symbiot. Without it, I would not be able to live."
"Hey!" Major Carter tells me, "Is it ok if I go down to Engineering? I'd love to see what I can do by tinkering a few knobs and switches. I may be able to make it go a little faster."
"I don't think our Chief Engineer would be too happy at that, Major." I inform him.
"That's right!" comments O'Neill, "Don't you think getting off this ship and back to SGC is the first priority, Carter?"
"I guess so, sir." she replies, looking a little disappointed.
Data considers this.
"It seems like the only way of doing this is to re-create the ion storm by what we have on the Enterprise." he says.
"But we don't know where the other four will be at the time!" O'Neill states.
"Nevertheless." Data continues, "It is the only chance we have."