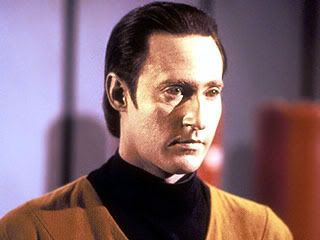 Guest Poster: Data


The dinner seems to be going well in Ten Forward.
My girlfriend Jennifer Baxter and I are entertaining her parents George and Miriam. They have never met me before, and are a little doubtful about my suitability for Jennifer.
However, I believe I am starting to win them over.
--------------------
We are seated at one of the best tables. Guinan has bought over the menu.
"Would any of you people like you to see the menu?" she asks.
"Aye, I would." replies Mr Baxter.
When it comes, he scans the pages and looks disappointed.
"Haven't you got any tripe?" he asks, "I could just do with some of that!"
Guinan smiles.
"Well, it's an unusual request, sir, "But we can get some if you wish."
"Aye, that would suit me fine."
"George!" whispers Mrs Baxter, "I thought we were going to have more modern dishes. After all, this is the 24th Century,"
"There's nothing like good, honest, Yorkshire tripe." George Baxter states proudly, "I'll have none of that Klingon food."
"There's a lot of tripe around in Yorkshire, Daddy." says Jennifer with a giggle. She and her mother both laugh. Her father looks disgusted.
Perhaps I should have had my emotion chip turned on?
As we wait for our meals, we start to talk. Mr Baxter turns to me.
"Now then, young man" he starts, "I want to know what your intentions are towards my daughter?"
"I am sorry, Mr Baxter, I do not understand."
"I mean are you going to make an honest woman of her?"
Jennifer starts to blush.
"Oh, Daddy!" she exclaims, "You're embarassing me and Data."
"Never mind that!" he continues, "What's your answer?"
My positrinic brain processes the question until I understand it's meaning.
"Are you asking if I wish to marry your daughter, sir?" I say.
"Aye, Data, that I am."
"Well, sir." I say carefully, "Jennifer and I have not discussed that in depth, but she is a wonderful woman."
"Oh Data!" sighs Jennifer, and kisses me on the cheek and holds my hand."
"Hey lass, be careful what you're doing there!" warns Mr Baxter.
"Oh, George!" says his wife, "They are only young. We used to do that once,"
"Aye." he replies, "But I wasn't a robot that needed oiling every week!"
"George!" continues his wife, "Give the couple a chance. Think of your daughter's happiness. She has a handsome Lieutenant Commander who loves her. Not many young girls could say that."
"Aye, you're right." he admits, "Very well Mr Data, you and Jennifer have our blessing to continue your relationship. However, you must try some of the tripe I get served."
"Very well, sir" I reply.
"Remember, Data." he says, "Call me George."
Behind him, Guinan is hovering, ready to serve our meals. She smiles and winks at me.
"Give Data some of my tripe!" Mr Baxter orders. It is placed in front of me and Jennifer laughs while I look confused.
I really should have bought my emotion chip with me.
------------------
Author's note:
This is an additional part to the story. It was meant to be a two-part one, but when many comments said they were looking forward to Part Three, I decided to expand it. I'm glad that I did.