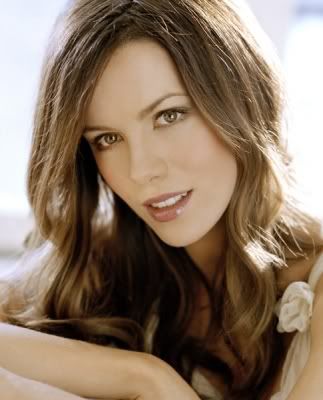 Guest Poster: Jennifer Baxter
I always knew this day would come sooner or later. My parents want to meet my boyfriend Data. They both dislike technology, yet I've never told them that Data is an android.
Mommy and Daddy are very English, and like the old ways. How they will manage to beam up to the
Enterprise
is a feat in itself. Eager to see me and my Lieutenant Commander boyfriend, I suppose.
---------------
Data and I are waiting in the Transporter Room as my parents beam aboard. We hold hands. I hope Data doesn't notice how nervous I am.
Daddy smiles at me, as does Mommy. They rush forward to greet me.
"I'm really glad to see you, Jen." says Daddy. Mommy gives me a peck on the cheek.
"How are you, darling." she asks me, "It must be awful being on this spaceship. I know it took a lot of persuading to get your father to beam up. He hated having his atoms taking apart. I'm sure he'll be counting them as soon as he can."
Then my parents turn to look at Data.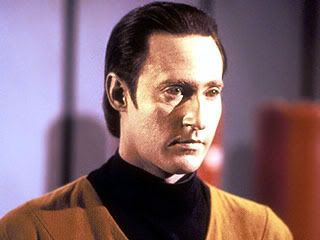 "Well I'll go to the foot of our stairs." exclaims Daddy.
"Hello, Mr and Mrs Baxter." states Data, "I am Lieutenant Commander Data, and am very pleased to meet you."
"Data, honey." I say, "This is my father, George Baxter, and my mother, Miriam."
"It is my pleasure." Data tells them with a smile.
Daddy is starting to look a little purple, as if he is being strangled with a tie.
"Err...Miriam, lass" he says to Mommy, "You have a word with Mr Data, I need to have a very urgent chat with our Jenny."
He pulls me aside quickly.
"Gordon Bennett! What do you think you're trying to do, Jenny?" he asks me desperately.
"What do you mean, Daddy."
"You know full well" he tells me, going even more purple, "Are you trying to tell me your boyfriend is a
robot
?"
"Of course he's not a robot, Daddy." I reply, "He's a highly advanced android with a positonic brain. Data is just an alternative life form who I happen to love. He's really charming, especially when he has his emotion switch turned on."
Daddy has to sit down on hearing this.
"Don't give me that, Jen!" he says while shaking his head, "Do you have to carry a key to wind him up every few minutes?"
"Don't be ridiculous, Daddy." I reply, "He's not clockwork. You'll get to like him after a while. Data is warm, kind, generous and..."
"It'll take a lot to convince me, Jen." he says with a sigh, "What will the neighbours say? I'll be ostracised from the local cricket club."
"Why worry about what others think, Daddy." I tell tim, "Doesn't your daughter's happiness count?"
"Aye, lass." he admits, "But he is not what we expected. He looks pleasant enough. Come on, let's get back to your mother. Your boyfriend might need winding up again."
We approach Mommy and Data.
"Oh, George!" exclaims Mommy, "Mr Data here has been making me laugh. He's been telling me some funny stories about his adventures in space."
"Oh, aye?" Daddy says grumpily.
"Yes, George." she continues, "He also tells me how much Jennifer has meant to him since she joined the
Enterprise
."
"Well, she's a special lass." Daddy concedes.
"Indeed she is, Mr Baxter." Data tells him, "The two of us mean a lot to each other. Shall we go to Ten Forward, where we can have dinner?"
"Aye, let's do that." says Daddy, "You can call me George, though", and he slaps Data on the back.
As we leave, Data and I exchange smiles and hold hands.
I think Data may have won his toughest battle.