Guest Poster: Karena
While Wesley Crusher was doing the ironing, the cooking and everything in the Academy apartment we shared, I looked in the mirror. The Academy authorities have ordered that he helps me through my years there.
"Why do men not find me attractive?" I thought to myself, "Do they not think me beautiful. Am I intimidating? Is it because I consider women superior and threaten them with my spear?"
Being an amazonian Princess from the planet Wondawowman has given me fixed ideas of how I should behave towards men. Naturally, they should serve me at cater for all my requests, but unfortunately not all societies adopt this perfectly normal point of view.
I approach Wesley.
"Wesley Crusher, do you not find me attractive and desirable?"
He looks stunned.
"Ahh..err...actually, you are pretty, Karena" he replies haltingly, "But you can be a little intimidating."
Enraged at this insipid reaction, I pick up my spear and walk out of the apartment, slamming the door with full force on the way out and head towards the mall.
I stride through until I see
Hana's Hair Emporium
, which has the sign underneath
'we look after your locks'
underneath.
I go in and prod the receptionist with my spear.
"Is Hana in, I want him...."
"I'm sorry madamioselle." she replies airily, "Monsiour Hana is much too busy to deal with you; I do not believe you have an appointment."
Angrily, I give the receptionist an extra jab with my spear. Fortunately I had it sharpened yesterday.
"He will see me!" I shout, "Otherwise you will be skewed!"
"He is over there, madamoiselle." she tells me hurriedly, pointing to a figure in the corner, "But he is with.."
Not bothering to listen any more, I march over to Hana, a tall man with curly hair and a tiny moustouche. who is working on a client, and prod him in the back.
"You will attend to my hair now, Hana!" I tell him angrily.
"And who might YOU be?" Hana asks, with a snooty air.
"Do you not know who I am?" I ask, "I am the Princess Karena! I have many high-profile contacts and friends in the Academy. Depending on what you answer is now may well decide the fate of your business."
Hana thinks carefully for a few seconds and talks to his client.
"You can come back next week." he tells her, "I have a Princess to look after."
The clent with the soaking wet and half-cut hair leaves the salon and I sit in the seat.
"Now what can I do for you, Madamoiselle?" he ask.
"I want you to make me even more attractive, Hana." I tell him.
"Quite a challenge," he says, "To make beauty even more so."
I smile. I must admit, I like to be complimented by a man; it makes a change from ordering them about.
-------------
Some time later, Hana makes an announcement.
"Madamoiselle." he tells me, "I have finished my work of art."
I look in the mirror.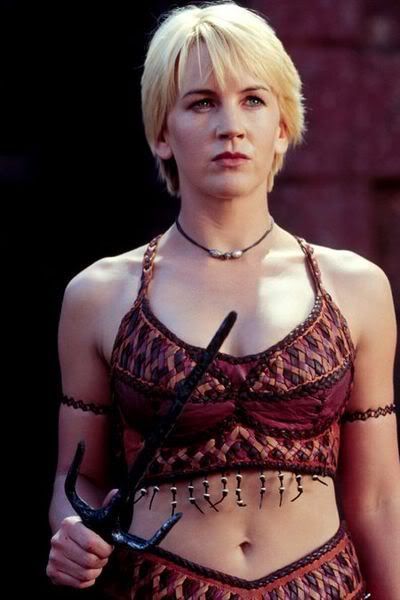 "You have done an excellent job, Hana." I tell him. He thanks me.
I head back to the apartment. It will be interesting to see what Wesley thinks of my new look.
To be continued...