When a planet has ion storms, it's wise to stay well clear as all sorts of problems can come up.
However, we have been directed to explore it by Starfleet as reports of dilithium crystals have been detected by long-range scanners
Worf, Beverly, Geordi and myself are getting ready to go.
"I think it's too dangerous with the ion storm, Captain." Riker tells me as I am ready to beam down.
"Then be thankful I didn't choose you to go down, Number One." I reply driely.
"Ready to beam you down, Captain." Data tells me.
The co-ordinates are transmitted and we arrive on the surface as a massive ion storm shakes the sky.
"Bringing you back, Captain." says Data, "The storm is too dangerous."
"Talk about bad weather.." Geordi tald to himself.
We look and see a large circular object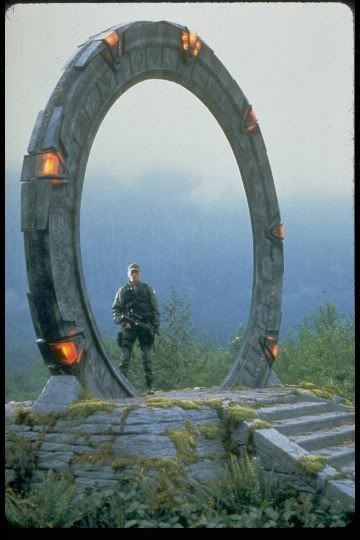 The last of four people in green uniforms seem to be beaming up to the
Enterprise
. A blue beam comes from the circular device and takes us inside.
-------
We all go through a long vortex and step out the other side. A group of people are aiming guns at us.
A bald man of military intelligence, evidently in an old-style US Air Force outfit of the 20th Century looks amazed and angry.
"All right!" he shouts at us, I want to know what you've done with SG1!....and what is that?"
He looks at Worf when saying this, who gets annoyed at being referred to as a 'that'.
"I am a member of the Klingon Empire!" he states proudly.
The bald man, who looks like a General looks to his soldiers.
"Take them into custody, men" he orders them, "It looks like the Goa'uld may be trying something new."
"General" I tell him, "I see your name is Hammond from your badge. It may be hard for you to understand, but it looks like we're from the future. We come the 24th Century."
Hammond smiles, as if he's heard these sort of stories many times.
"Yeah, sure" he says, " Do you think we are that stupid to believe that. Another Goa'uld trick to get us to reveal the iris codes."
It looks like things aren't exactly going to be easy here.
To be continued...