With the fabric of reality breaking down in the universe, and no sign of how to correct it, things are looking bleak.
"I sense great alarm." Deanna tells me.
That woman!
Bilko is talking with Lucy and Ricky Ricardo; apparently he is winning a considerable amount of money from a card trick he is showing them.
Another sudden flash of light and a man appears on the Bridge.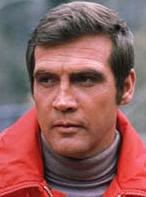 "This looks something special." he says, "It seems like I've got a sci-fi problem."
"Who are you?" I ask him.
"The name's Colonel Steve Austin" he replies, "Don't worry, I usually solve these problems in an hour; that's unless it's a two-parter, then I have two hours."
We all look puzzled.
"Be careful, Captain" says Worf, "Our sensors show that he has concealed implants; he may be an advanced form of Borg."
"That's all we need!" Riker exclaims.
Seven steps forward.
"You look interesting." she says with passion, "Do you have a message from the Borg Queen? I cannot seem to detect anything you are saying in the hive mind, however."
"Whoah!" shouts Austin, "What are you, metal girl? One of Rudy Wells' prototype rejects? Oscar never told me about you!"
Seven looks in disgust.
"The Barrier is still falling apart, Captain" says, "Another flash of light is iminent."
As it takes place, another man appears on the increasingly crowded Bridge.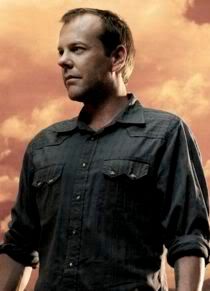 He looks around swiftly.
"What's going on?" he says. Then he gets an early 21st century cell phone and starts talking into it.
"Chloe." he says desperately, "It looks like the Chinese have sent me on a brainwashing trip to make me seem as if I'm in the future....Chloe...are you there?"
I step forward.
"Mr...err..?"
"The name's Jack Bauer, and that's all you're going to get from me!" he replies.
Bauer then looks around, sees Worf, Lucy, Desi, Bilko and Austin.
"Just what is going on here?" he asks, "Surely none of this is real?"
I'm beginning to ask that myself; the screen shows the Barrier is steadily breaking up, and unless we can think of something drastic soon, the real world and the unreal world will melt together.
To be continued...