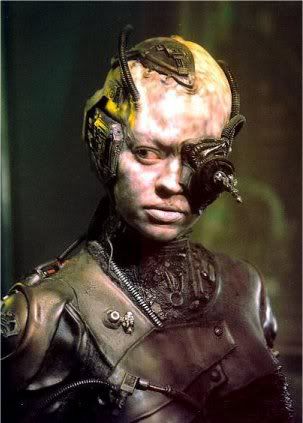 To The Borg Queen,
This is Seven Of Nine of Unimatrix 01 sending the latest report of my progress on the
USS Enterprise.
After some time, people are beginning to accept me here; they no longer run down the corridors screaming when they see me, and mothers do not say to their children "Behave yourself or I'll send you to the Borg woman to get assimilated."
It will make things somewhat awkward for them when the Cube comes and actually assimilates the crew.
I have presented a breakdown of the senior staff, so that you can be more familiar with their actions, and what I have noticed about them.
Locutus of Borg
: he still insists on being called 'Captain Jean-Luc Picard', so I humour him in this. Though he is the leader in the vessel, he allows others to have their own opinions. At least we know where we are in the Borg with us following you without question. Locutus does not disconnect people who disagree with him, as you do. This is a sign of weakness.
Commander William Riker
: The second in command on this vessel, who strangely gets called 'Number One' by Locutus. I have yet to understand why this is so, as it is not a proper name at all. Another human peculiarity. Riker has a great liking for donuts, and will secretly go for as many of them as possible in Ten Forward (the rest area). He is romantically involved with Deanna Troi (see below).
Lieutenant Commander Data
: This is a most interesting specimen, as he is an android with a positronic brain. I recommend that he be acquired so that the Borg may study him and get an Upgrade for us all. We haven't had one since Windows 2351.
Lieutenant Worf
: This Klingon is head of Security; he has an aggressive tendancy and prefers to shoot before asking questions, very much like we do. I like his style, but I recommend that he be neutralised quickly when we assimilate before he does too much damage to drones.
Lieutenant Commander Geordi La Forge
: This human Chief Engineer is not too much problem; he only gets visibly annoyed if someone starts adjusting things in the Engineering Section.
Counselor Deanna Troi
: This is a half-Betazoid whose telepathic abilities will be useful to the Borg. She is romantically involved with Riker, has an overbearing mother named Lwaxana and has an abnormal liking for chocolate. I recommend we try to delete that before assimilating her, otherwise the Borg will be dependent on Chocolate Sundaes.
Lieutenant Jadzia Dax
: This is a member of the Trill race who is host to the Dax symbiont; as we haven't had a Trill before this would be most interesting experience for us. A bio-symbiont would be another step forward in the
Borg Medical Directory
.
Ensign Ro Laren
: A Bajoran, who has, what the humans call a 'huge chip on her shoulder' about the Cardassians. She won't have that when she's a drone, of course, as we've assimilated Cardassians in the past. That is the wonderful thing about the Borg, my Queen; we assimilate anybody, and have no prejudices.
Doctor Beverly Crusher
: This human female is romantically linked with Locutus of Borg; she consistantly tries to tell me I was human myself once, which is nonsense. I wish to put her first in the Assimilation Chamber.
The staff are making plans for a Christmas party; I tried to convince them that the Borg do a superb catering service and musical accompaniment, but they refused to listen to me. It's little wonder that they are so weak.
The Borg are supreme! Resistance is futile!
Yours,
Seven Of Nine