Things are completely out of hand here on the
Enterprise
.
Since a large crack in space appeared, which appears to have been a barrier between the real and unreal universes, people from the latter have been appearing on the ship.
Right now on the Bridge, Bilko is selling raffle tickets for the Motorpool Dance. Lucy and Ricky Ricardo have promised to come; Steve Austin will be bringing Jaime Sommers. Jack Bauer, who still isn't sure whether it is a Chinese torture illusion where he is, has put himself down for two tickets with him and Audrey Raines 'just in case'.
I wouldn't mind that, but Beverly has bought two tickets as well! She replicated some old dollar bills.
I'm not letting Bilko near that replicator!
"Four people have appeared in Cargo Bay 1 along with a large circular object." says Worf, "One of them, a Colonel Jack O' Neill said he was en route to Earth and appeared here instead. He said he blames Carter for dialling the wrong number, and from now on, Daniel will do that."
I groan, sit down in my Captain's Chair, and have a stress pill.
"Calculations show that the Barrier will explode in ten minutes, Captain." states Data, "When that happens, the universes will become one."
"..and reality and unreality will be one and the same." continues Riker, "Who knows what evil ficticious creatures will become real?"
Another flash of light on the Bridge.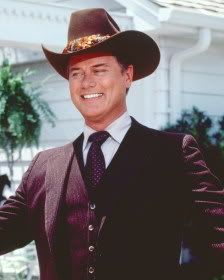 "Mighty fine to meet you all." the man says, "The name is JR Ewing; can I interest you in some shares for Ewing Oil? We're doing really well this year."
I decline, and he looks at Deanna.
"Well, howdee, honey" he says as he smiles, "You look really pretty. You're not related to the Barnes by any chance are you? Don't want to make the mistake my idiot brother Bobby did."
"Deanna's with me!" Riker declares.
"After an evening with me, she'll soon change her mind" laughs JR, "Won't you, darlin?"
Deanna slaps him on the face.
"I love the frisky ones who play hard to get" says JR, with a chuckle.
Just a few minutes to go before the explosion, sir." Data reminds us.
Another flash of light on the Bridge; what now?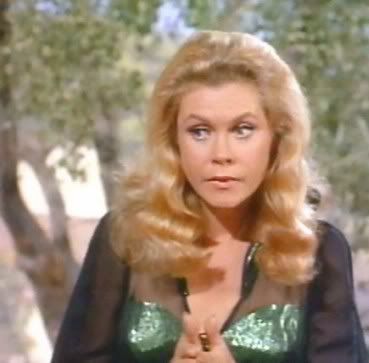 A blonde woman in a dark costume appears.
"Err...hello" she says, "Can you tell me where I am? It looks like one of my spells has gone wrong. Darren will be wanting his dinner."
"I'm Captain Jean-Luc Picard of the 24th Century starship Enterprise." I tell her, "And you are..?"
"I'm err, Samantha Stevens" she replies, "I was just reciting a spell to get all the housework done and suddenly I appeared here. I guess I must have got it wrong somewhere."
"What do you mean 'reciting a spell'" asks Worf, "Are you a member of the Q Continuum?"
"I don't know what that means." replies Samantha, "I'm just a witch."
"Are you saying you can recite spells to make things happen?" I ask.
"Sure" she tells me, "Although my husband Darren doesn't like me using my powers too much, especially when I cheat on the housework."
"Never mind that, Samantha" I say, "Do you see that large crack in space? Do you think you could repair it and reverse all the emissions that have come out of it?"
"That's a tough one!" she replies, "Definately one that would be in the Advanced Witches Spellbook."
Samantha twitches her nose and a large book appears in her hand.
She opens the book and goes through several pages before she finds what she wants. Samantha then recites a few weird words and twitches her nose again.
"The Barrier is starting to seal up again" says Data.
Lucy and Desi disappear from the Bridge; then Steve Austin and Jack Bauer. The four in the Cargo Bay vanish, together with the circular object.
JR Ewing then vanishes, just as he was persuading Geordi to buy shares in Ewing Oil.
"The Barrier is almost healed" Riker says.
"Thanks. Samantha" I say to her.
"No problem at all." she replies, "I'll have to get back to making Darren his dinner". Samantha winks and touches her nose. Then she vanishes.
"It's all sorted out, then Captain" says Riker.
"Yes, Number One," I reply, "But how do I tell Starfleet that the universe was saved by a witch who twitched her nose?"