We've been sent to investigate an apparent 'fracture in space' that has happened as a result of Starfleet testing their new 'MegaMissiles'.
That's typical; cause a problem and send the
Enterprise
to sort it all out. Has anyone noticed the frequency of these happenings?
After a day's travel, we are now in the Barnarian Sector; sensors are going crazy. Data's reasoning for this is "I do not know."
Very helpful.
As we approach, we see a giant crack in the space/time continuum. This always seems to happen.
"Indications are that the gap is getting wider and will not stop." Data tells me, "The probe we sent has disappeared; there appears to be absolutely nothing of the real universe in there."
"I sense there is something" Deanna informs me, "And it's coming out of the barrier."
That's a first; Deanna telling me that is not glaringly obvious.
Suddenly there is a blinding flash from the barrier and despite the fact that we have shields up, two figures appear on the bridge.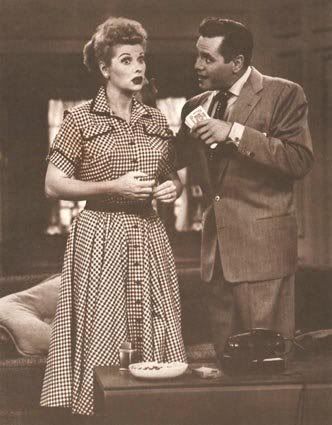 As the pair appear to be harmess, I go to greet them.
"Hello, I am Captain Jean-Luc Picard of the
USS Enterprise
. Would you like to...."
"LUCEEE!!!" shouts the man to the woman, "What have you done this time!"
"Ricky!" she stammers, "It's not my fault, maybe Fred and Ethel know something about it all. Why don't you go and ask them?"
"Oh, sure, Lucy!" he tells her, "I'll just walk upstairs, shall I?"
"Would you mind telling me who you are?" I ask.
"I'm Ricky Ricardo, and this is my wife Lucy" the man tells us, "Where are we?"
"You're on the 24th Century starship
Enterprise
, Mr Ricardo." Riker tells them.
They look stunned.
"I don't know how you got us into this mess, Lucy." says Ricky, "But I can't see it getting sorted out in half an hour."
Data tells me quietly that the two of them never really existed, but were characters in a 20th century Earth television show.
"They are real now, Mr Data" I inform him.
"That is true, Captain." he says, "The Barrier is a pathway between real and unreality."
Another sudden flash, and a single character joins Lucy and Ricky.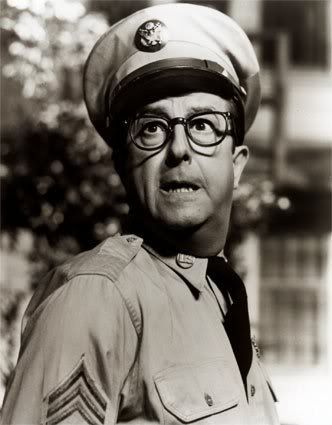 The figure is a 20th Century military figure; he swiftly looks around, sees me and gets out a pack of cards.
"Pick a card!" he asks.
I look at Riker, who smiles. A card is selected; the ten of clubs.
"Put it back in the pack." says the man. He then shuffles them around and a card pops up.
"Ten of clubs!" he asks?
"Yes" I reply, "But who are you.."
"I'm Master Sergeant Ernie Bilko" he replies, "Just call me Ernie; do you want to play poker? If you've got a few dollars, let's see how good you are."
"I'm err...sorry...Ernie," I tell him, "We don't have currency in this society"
"Boy, am I in the wrong location!" he says to himself, "What kind of place is this?"
"It's a kind of spaceship in the 24th Century, Ernie." Lucy tells him, "I can't think how we ended up here."
Data tells me that Bilko is another character from an Earth tv show, and that as the Barrier grows wider, the two universes could mix.
"You mean...?" Deanna asks.
"Yes, Counselor." Data continues, "The real and unreal universes could all be one."
To be continued...