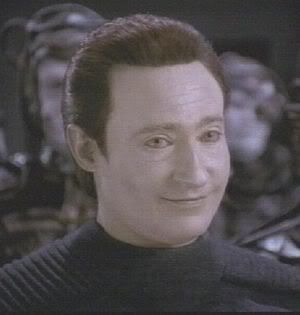 At last, things are underway.
I've dissembled Data and put him in a crate marked "Nowheresville Warehouse.". It's the traditional place where items go and are never heard from again.
I certainly don't want to see my do-good brother again; he had his chance to join me, but turned it down. I it's time for good ol' Lore to set the wheels in motion.
Now I've got to pose as Data and be on the
Enterprise
until I get it destroyed, or the people on it suffer a nasty fate. It's a bit of a downer playing Data, but the end result will cheer me up no end.
"Data! Where are you?"
It's Picard's voice.
He comes up to me and asks where I've been for ages.
"I thought the most likely clues would be in a quiet place where no one usually goes, Captain." I tell him, "So I checked thoroughly."
It's so hard not to remember not to use contractions with these idiots; they might be slow, but they spot things like that right away.
"Good thinking, Mr Data" says Picard.
What a gullible human he is. He'll believe anything I tell him. If I told him it was day and it was night, he'd accept it.
-------------
About 15 minutes later, we have 'caught' the murderer. It's an assistant of Dr Rou named Damal. I've set him up as the patsy, and cooked up enough evidence against him so that he HAS to be guilty.
Balas is satisfied and the mission is over.
As we come off the Enterprise transporter, Troi starts with her Betazed theories.
"Captain" she says, "I'm not sure if Damal is the killer; he stresses he is innocent, and I can tell that in his mind he believes he is."
"Perhaps, Deanna" suggests Picard, "He blacked out the incidents and truly believes he is innocent?"
Great, Captain; thanks for helping me out there!
--------------
Later, while walking in the
Enterprise
corridor, I am greeted by a great-looking brunette.
"Hi Data!" she says, "Are you looking forward to our date tonight?"
This must be Jennifer Baxter, Data's girlfriend; not bad, Data, you have good taste in the ladies, I must say.
"Sure, Jenny, honey" I tell her, "You're my number one babe"
Oops. I think I was distracted by her, and forgot where I was.
"You're not Data!" shouts Jenny, "Data doesn't use contractions, and doesn't use compliments like 'babe' and 'honey'. I'm calling the Captain.."
Jenny is quickly stunned by my phaser. Too bad; I guess that's our date for the evening gone. I guess I'll be looking in the android 'lonely hearts pages' soon.
In a hurry, I gag her and put her in a nearby Jeffries Tube.
Things are starting to look a little anxious already. I'd better start putting things in motion to destroy this ship before anyone misses her.
To be continued...