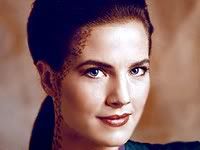 Guest Poster: Jadzia Dax
Worfie and I have been summoned to a meeting with Miss Forrester, who is Alexander's teacher on the
Enterprise
.
This has sent Worfie into his usual worrying state.
"It sounds as if his grades might be slipping." Worf tells me as we walk towards the school, "If they are, he will be severely punished. Alexander must not bring shame on the family by having failing grades."
"Don't get uptight about that, Worfie." I tell him, "You know it never does Alexander any good when you inflict that Klingon philosophy into him. He wanted to be a ballet dancer at one stage."
"He is meant to be a Klingon warrior!" protests Worf.
We enter ther schoolroom.
"Hello Lieutenant Worf and Jadzia." says Miss Forrester as she greets us.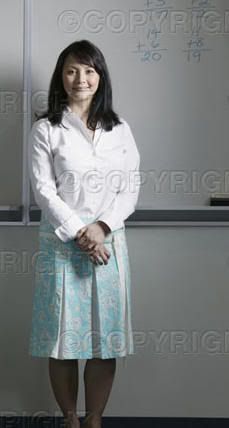 "Whatever Alexander has done." Worfie blurts out, "I can assure you that he will be punished most severely. In addition to that, he will be denied replicator priveliges until he is at least 30."
"Sssshh" I whisper, "Let's hear Miss Forrester first."
"Err...yes," starts Miss Forrester in a hesitant manner, "This is a little delicate, but yesterday, Alexander was err...pestering a female student named Emily he was sitting with."
"What do you mean?" I ask.
"Well" she continues, "Alexander wanted to kiss her. Emily refused. This lead to a lot of trouble in the classroom."
"How so?" Worf asked.
"Another little girl, named Sharon said she wanted to kiss Alexander, but he did not want to kiss her."
"Oh dear!" I exclaim, but trying to supress a giggle, while Worf is looking disgusted.
"I've spoken to the other parents." continues Miss Forrester, "And they have agreed to have 'the talk' with their children. It leaves just you."
"What do you mean by 'the talk'" asks Worf. I sigh.
"It means when a parents and children have to talk about the birds and the bees." I tell him with exasperation.
"The birds and the bees?" Worf asks, with increasing bewilderment.
"Reproduction!" I shout out.
Finally Worf gets the idea.
"I cannot talk to Alexander about that!" Worf protests, "In Klingon society, men and women find out for themselves when they meet up."
"That may be true, Worfie," I say, "But that can't happen with a young boy on a starship."
"But I don't know how to approach telling him." Worf admits.
"In that case." I admit, "As much as it annoys me to say this, "We might need the help of that Counselor, the Troi woman."
To be continued...