"You cannot be serious, sir?" I say increduously, "It will never work."
"I am and it will." replies Admiral Hollister on my videoscreen.
"The crew won't like it." I warn him.
"You can tell them that the Federation President has authorised it." Hollister reminds me, "He wants the actives lives of the flagship of the fleet recorded, with interviews. It is to be preserved for posterity. Count yourself lucky that it's you, Picard."
"Yes." I reply withb a sarcastic tone, "Lucky me."
-----------
A few hours later, we are in the transporter room, about to welcome the film crew and the director on board. I can tell there are a few rumblings of discontent.
"Now I can tell you're unhappy about this." I say, "But we can't argue against it, so let's just make the best of it all and go with the situation."
As I finish that, the film crew appear, led by a very strange looking individual.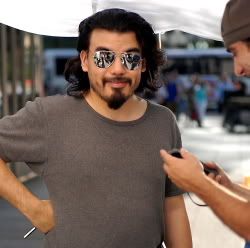 He takes a look around the transporter room, casts his eye at each of us, then turns round to address the film crew he has.
"Boys, it looks like a great set-up here." he starts, "We can get some good interior shots in this place, and the crew look ideal for a few interviews. Take a look at the Klingon and the surly Vulcan. They'll get a few laughs."
Worf and T'Pol start to fume.
I move forward to welcome him.
"Hey, you must be Jean the Captain." he says, "I'm Steven Spolberg, the famous movie director. Perhaps you've heard of me?"
"No I haven't." I tell him flatly, "My name is
Jean-Luc
Picard. You will address me as Captain Picard or just Captain."
"Sure." Spolberg replies, "I didn't know you were Belgian."
This causes my temperature to rise to boiling point, but Deanna wisely steps in to diplomatically diffuse the situation.
"I'm Deanna Troi, the ship's Counselor." she tells them, "Whenever you like, I'll be happy to take you on a guided tour of the
Enterprise
."
"Wow!" exclaims Spolberg to the crew, "Now that's a good looking girl. We'll have to make sure we get plenty of shots with her in!"
Deanna moves forward and slaps Spolberg on the face, just before Riker was going to do something nastier.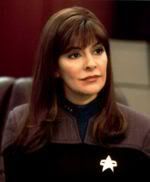 "I am not here to be ogled at by your cameras!" she declares, "I am a respected member of this crew, and you will treat me as such. I was not put on the ship to glamourise your film."
With that, the Betazoid storms off in a huff. The film crew are happy that they managed to capture the entire altercation in their cameras.
"That incident was worth the slap on the face, boys." Spolberg tells them.
Spolberg has only been on the ship a few moments, and already he has caused a near riot. At this rate, he'll be the most unpopular person on the ship since Q made our clothes vanish during Admiral Lancaster's visit.
To be continued...