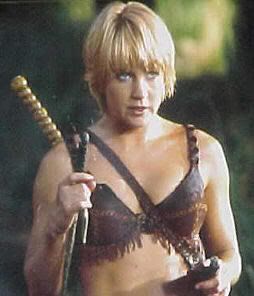 Guest Poster: Karena
My pumpkin, Wesley and I are sitting the Stafleet Academy Exam. We've just gone through the Written Test, and are now moving on to the Practical Part. This will decide who goes through to be an Ensign and who fails.
If the two of us can get through, Wesley and I can get married, and he can be my Life Servant.
------------
With us in the group competing are a Bolian named Norm, a human called Flushman who basks in the title of Academy Bully (though my spear put him in his place a couple of days ago) and a female Andorian.
It is this female Andorian with whom I am concerned. She is named Tarah, and I have noticed that she has been making eyes at my pumpkin.
I ought to nip this in the bud.
"You will stop making movements on my fiance, Tarah." I tell her, "Wesley and I are engaged to be married."
"Oh, really?" she replies sneeringly, "I'm sure if your fiance spent some time with me, he'd drop you right away. I know how you Amazons from Wondawawman treat your men. Wesley would get VERY different treatment from me."
I am incensed. If only I had my spear with me.
Before I can reply with a well-placed fist, the exam head calls us into place.
"All right, students." he starts, "For the Practical Part, you will be placed in a holographic Starship Bridge. Names have been drawn for the roles to play. This test will cover all the roles, so the Captain will be tested on the same level as the others. Karena is the Captain, Tarah is is second as Commander, Wesley is Tactics, Flushman is Lieutenant Commander on Com and Norm is Engineering"
Flushman grumbles that he should have been Captain. I am annoyed that Tarah is my Number One, but pleased she is taking orders from me.
------------
We are on the holographic Bridge, and cruising through space, encountering various problems. The crew report what they see, and I tell them what to do. Tarah takes a delight in contradicting me and giving me alternative ideas. I remember to listen to them, as a Captain is supposed to do that.
"Borg Cube coming up on sensors" Flushman tells us.
"It must be heading for Earth." Tarah mentions.
"Weapons at full complement." my pumpkin announces.
"Engines are weakening." Norm announcers, "We may not be able to keep up with them and stop them."
"Suggestions?" I announce.
"Hit them with all our weapons." Wes comments.
"I agree." Tarah says, looking round with a smile and a wink. I'll get her for that later.
"We have to do it now, Captain." Flushman orders, "We're running out of time."
"I don't think it would work." Wesley tells us, "Our weapons would not be powerful enough. Only the explosion of a Starship would stop it."
"You mean we kill ourselves in the process?" Norm asks.
"The needs of the many outweigh the needs of the few." I tell them. I'm glad I read that Spock biography.
I ask everyone if they agree, and eventually they all do.
"Well, it's only a pretend Bridge." comments Tarah sniffily.
We set the ship to ram the Borg Cube. As it hits it, the holodeck program ends.
"Well done." says the exam head "You recognised that sometimes a Starfleet Officer has to give their own life in order to preserve those of many more. You have all passed, and are now Starfleet Ensigns!"
Wesley and I kiss each other, and I see Tarah glaring away. I'll get her later.
"Well, honeybunch." he says, "We've both graduated from Starfleet Academy. We can start laying the plans for our marriage."
"I'll be around,
honeybunch
." Tarah whispers quietly.