Ah well, today's my birthday. Another mile on the clock.
Best not to think like that. After all, it is 'my day'. Never mind the fact that it's another digit.
I get a video call from Admiral Hollister.
"Ah, Captain Picard." he announces cheerfully, "May I wish you a Happy Birthday?"
"Thank you sir." I answer. I can see what's coming here.
"Another year older." he comments, "Before long, it'll be time to receive that gold watch and head off into the sunset."
"I have no plans to retire, sir." I answer sharply.
"Ah well." he answers, "I know we have many fine young officers here in Starfleet who are waiting to fill.."
"Thank you for your good wishes, Admiral." I say gruffily, and switch the viewer off. I I get any more of those sort of messages, there will be trouble.
I head out of my quarters. Deanna sees me and walks with me to the Bridge.
"Happy Birthday, Captain!" she says in a friendly manner and gives me a peck on the cheek, "It's good to see you're still here. After all, the responsibilities of being the Captain of the
Enterprise
must weigh heavily on a man of your age."
Aaaaggh! I say nothing.
We reach the Bridge, and everyone there wishes me a Happy Birthday. Riker congratulates me on reaching this age. Is he trying to say something?
"No one would have reached your age in the Terran Empire." comments T'Pol, "They are deemed unsuitable to command a ship and are removed."
I dread to think what 'removed' means to T'Pol.
-----------------
A few hours later, we are all in Ten Forward, enjoying the birthday party that has been set up. The hologram Vic Fontaine is leading everybody in a song:
"Happy Birthday to you,Happy Birthday to you,Happy Birthday, dear Captain,Happy Birthday to you."
There is a big cheer and Bev steps forward with a present.
"This is a present that we thought you would really like, Jean-Luc." she says to me.
I open it and see what it says.
Do you have a holodeck? Are you a pontential actor? Congratulations! Live out your fantasies in this,
The Shakesperian Holoprogram.
All the plays are here. You can live any role in them. This program is more real than typical programs. It's like no program you've had before!!
"It's wonderful, Bev" I tell her, "Just what I wanted." We kiss.
The dancing starts, and I lead Bev off in a waltz, while the others dance away.
While getting a Klingon Bloodwine, I hear Riker and Deanna talking to each other about something.
"Are you sure it's safe?" Deanna asks him, "I heard that you had to get it from someone in an alleyway."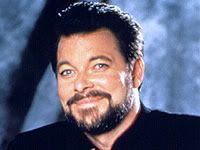 "Don't worry, Deanna." Riker replies, "He assured me it was perfectly alright, just a little bit experimental, and hadn't been officially released. We were lucky to get the Program ahead of release time, or we wouldn't have had anything to give him."
Deanna notices I am listening, and she nudges Riker. They suddenly start talking about the good food that was served at the party.
I wonder what that was all about? Anyway, I'll be looking forward to trying the Program soon.
Time to get dancing with Bev again. The smooch numbers are coming up!
---------------------
Author's Note:
As 14th January is my birthday, I''ve received the unabridged version of Philippa Gregory's novel
'The Boleyn Inheritance'
, as it is what I asked for. There were no
Shakesperian Holoprograms
available!