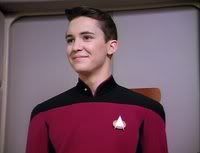 Guest Poster: Wesley Crusher
My honeybunch, Karena and I are about to enter the hall for the first part of the Starfleet Academy Exam. If we both pass, will be Ensigns, and also we'll be able to get married.
I can tell Mom and Captain Picard were really pleased when they smiled and waved us goodbye. At least I THINK they were pleased.
As I go through the door, I am approached by Flushman, the Academy Bully.
Flushman has gained a notoriety amongst the Cadets, and likes to terrorise them all. He is so professional at his activities, he has the official title of 'Academy Bully' printed on his Cadet uniform. He towers six foot tall, and is generally all muscle...including his head.
"Crusher!" he bellows, "I want a word with you."
"What is it you want, Flushman?" I ask.
"You will address me as
Mister
Flushman or by my official title as 'Academy Bully'!" he corrects me.
"Sorry, Mr Flushman." I reply.
"That's better." he comments, "Now then, Crusher, you are supposed to be rather good at these exams. When I whisper to you, I expect you to reply quietly with the answer that I require."
"Are you intimidating my pumpkin?" shouts an angry female voice from behind.
Karena.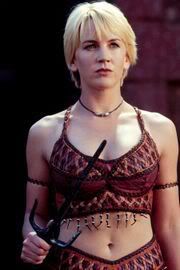 "You will feel the effects of my spear!" she yells, and applies it to Flushman.
I think he will have difficulty in sitting down for the exam after that.
"Are you all right, pumpkin?" she asks me, showering me with kisses.
"Fine, thank you, honeybunch." I reply. "Let's go in for the exam."
-----------------
A group of us sit in the hall. Karena, myself, a sore Flushman, a male Bolian, and a female Andorian, who winks seductively at me, and blows me a kiss.
"Now then." says the exam head, "Here are you test papers. Turn them over. You have one hour to complete them."
We turn them over, and I look at the first question.
If it takes one Klingon 75 minutes to dig a hole with a shovel, how long will it take to dig half a hole with a shovel twice the size?
I read that one again. I hope all the questions are not like that. I think I'll come back to that one.
A shuttle travelling at Warp Four meets a Starship travelling at Warp Seven. How many light years would the two have to be apart when they first started?
Maybe it's a trick question?
How many Jeffries Tubes does a Galaxy Class Starship have?
That's easy-peasy, and I write the answer down. Geordi told me that on the
Enterprise.
It was impotant to know when I was saving the ship every week.
Who won the World Series in 2009?
Ah, an Ancient History question. Now who was it? Ah yes, it was them.
I go through the rest of the questions and reread the first ones. I turn over my paper at the end of the hour.
Flushman looks like he hasn't done too well. The Bolian and Andorian seem unsure of how well they've done.
I look at Karena. She gives me a smile, and gives a hard look at the Andorian.
"You have now completed the written exam." says the exam head, "Later in the week, you will move to the Practical Part, which will determine whether you succeed or not."
To be continued...-------------------Author's Note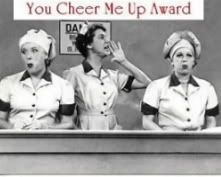 Elizabeth on
Table For Five
has just given me the above Award. Thanks so much You're a great blog and Facebook friend!
I award this to Linda on
Are We There Yet?
for being a good friend and Scrabulous player and to
Titania Starlight
for the uplifting posts she produces.