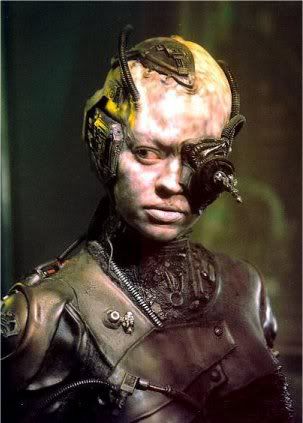 Guest Poster: Seven Of Nine
At this moment on the
Enterprise
, many of the crew are annoyed, including Locutus, as a film crew have come on board to record the activities and do interviews with some staff to be kept for posterity.
The director is a strange individual named Steve Spolberg; with him is a slovenly group of individuals.
------------
I have been summoned to attend a meeting a holodeck. There, I find Spolberg and the crew, and sitting with them is T'Pol and Ensign Britney.
"What is going on here?" I ask acidly.
"Ah, Seven Of Nine!" Spolberg comments, "Please sit down next to the other women and we can start."
"Start what?" T'Pol asks him.
"Well, Ladies." Spolberg answers, "I thought I'd do this special interview with you three, as you are all 'rebels' on the
Enterprise
. After all, none of you are typical Starfleet members, nor wear their uniforms."
"I am a member of the Terran Empire!" T'Pol declares forcibly.
"I am Borg!" I answer.
"...And I'm err....Britney." Ensign Britney answers as she starts on some more chewing gum and reties her Dr Martens boots.
"Exactly!" Spolberg tells us, "We want viewpoints from you three."
He then whispers to his crew, "Besides, they are good eye-candy."
"What is 'eye-candy'?" I ask him.
Solberg chooses noy to answer; slightly disoriented, he starts with me.
"Now Seven Of Nine, you were put on the
Enterprise
to study human behaviour for the Borg Queen. In turn she agreed not to assimilate the members of the crew while you were on board. What have you learnt about humans so far."
"That they ought to be assimilated right away." I answer sharply, "Resistance is futile. We are Borg."
"Err..yes, Seven." Spolberg continues, "Now do you think it would be possible to get an interview with the Borg Queen? I'm sure it would be an excellent addition to the film."
"I'm sure she would agree if you could be assimilated in return."
The film crew laugh and shout "Go for it, Steve!"
"Maybe it's not such a good idea after all." he answers, "Thank you, Seven."
He turns his attention to T'Pol.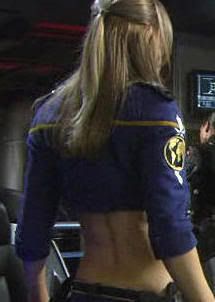 "Get shots of the midriff, boys." Spolberg whispers to the crew so I can bearly hear him.
"Now then, T'Pol." he asks, "Your wear a very different uniform because you come from the parallel universe of more than 200 years ago. Is that right?"
"YOU are the parallel universe!" she snaps, "The Terran Empire of my universe is how things really are. This Federation is just a poor reflection."
"There was a T'Pol in this universe as well, at that time." Spolberg reminds her.
"A Vulcan with no spirit!" she comments dismissibly.
"Have you made any friends since you've been here, T'Pol."
"Just one." she replies, "My soulsistah Britney here!"
The two of them do that strange high-five action that I have yet to understand.
Spolberg moves on to Britney.
"Now then, Ensign Britney." he continues, "You've had a tough time with discipline on the ship, haven't you? It seems you've been in the brig more than you've been out of it."
"Guess so." answers Britney economically.
"Why do you think that is?" Spolberg asks.
"People from the planet Delta are free thinkers." she says, lying back in her chair, "The rules on a starship are very stifling.I don't like conforming."
She blows a bubble with a chewing gum.
Personally, I do not care for Britney. She needs the strict rules of the Borg to put her right. What I am concerned is that if we ever assimilated her, her thoughts might do untold damage to the Collective Hive Mind.
She stands up.
"Well, it's getting boring here." Britney continues, and looks at T'Pol, "I'm outta here. Sistah, are you coming with me? The
Enterprise
Cinema is showing
The Rocky Horror Picture Show
. I just fancy doing
The Time Warp.
Seven? Do you wanna come along as well?"
"What is
The Time Warp
?" I ask.
"You'll find out." she answers, and the three of us walk out, leaving Spolberg and his crew with no one to talk to.
To be continued...