Guest Poster: Q
With things so
boring
around the Continuuum right now, I need something to occupy my mind. It no good being told by the other Qs that playing billiards with planets is not really a good thing, and doesn't do well for harmony between the Continuum and the universe.
Ho hum...


I could go the the
Enterprise
, but I'd get an icy reception from Jean-Luc. That's part of the fun, I suppose, but he's busy right now; I could look elsewhere.
There is always my favourite female human: Kathryn Janeway of
Voyager
, Now I
know
she would be delighted to see me, and will welcome me with open arms and a big kiss.
All right, that last sentance was a slight exagerration on my part; in fact very much so.
-------------
I materialise on a ship that has a lot of internal damage; it is interesting how
Voyager
always seems wrecked, yet they manage to repair it
so well
. Humans are very resourceful on this point.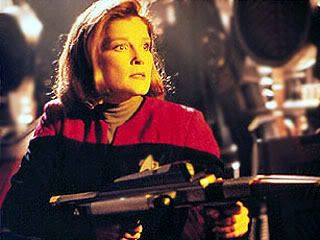 Kathryn comes round with a phaser gun shooting the alien creatures that have invaded the gun; I smile at her. Isn't she pretty?
"Hello Kathryn." I say in my cheery way, "Good to drop in on you. Hope you're not too busy right now."
She looks amazed at seeing me; perhaps I came at a bad time?
"Oh, sorry." I tell her, "Do you want me to get these out of the way?"
"If you wouldn't mind!" she replies with that steely sarcasm that I like so much, and carries blasting away at the aliens.
In an instant they are all gone, and Kathryn turns round to me.
"Thanks for your help, Q" she say, "Now why have you come to bother us? Unless you are going to get us to the Alpha Quadrant, which I know you can, I'll just say goodbye."
"That's gratitude, Kathryn!" I tell her in my slightly hurt voice, "You know that you have the ability to get home by yourself. Just be patient. All good things come to those that wait. I just wanted to drop in to ask how my favourite female Captain was."
"I don't need a cliche, Q" she tells me, as she puts the gun down and moves some wreckage, "You know how I am without visiting; you know everything."
Chakotay comes in, and looks at me with any icy stare.
"Be careful, Kathryn!" I warn her, "You might need a gun to defend yourself against this Maquis leader. You never know when he might want to take over the ship."
Chakotay looks incensed and rushes towards me; the Captain stops him.
"Easy, Commander." she warns, "Q is just trying to provoke you; it's the sort of thing he loves to do. It keeps him amused."
Neelix and Kes approach. I ask if they are still together, which upsets the poor Ocampan. I then mention the number Seven a few times to Kathryn. This puzzles her. We in the Continuum have no need for time, so can see into their future.
Quite fun really! It would help in the Federation Lottery, but would end up as very boring.
"I could always stay on as a crew member, Kathryn." I offer to her, and whisper quietly "I could be the Commander; this untrustworthy one can stay in the brig."
Chakotay must have good hearing as he gets mad again; no wonder he was a member of the Maquis.
B'Elanna Torres turns up; she is a really fiery one; not one for patience. I think Kathryn has her work cut out with those two!
"Q!" exclaims Torres, "Can we destroy this mad creature, Captain?"
She's worse than I thought!
"Be careful, B'Elanna" warns Kathyn, "Q could send us even further away from home than we are."
Kathryn has a wise head on her shoulders; I just wish she liked me more.
"I think I'll take my leave of you for now, my dear." I playfully tell Kathryn, "The Continuum is holding a kareoke contest tonight, and my Sinatra singing is well known there. I'll be singing 'I've Got You Under My Skin'".
"Well you get under ours! she replies with her sharp wit.
"Look out for 8472!" I call out to tease her about the future.
Quite an eventful day in the Delta Quadrant!