Starfleet must consider me an intergalactic James Bond with the missions I get sent on. Perhaps I should put myself forward as the film franchise are looking for someone as the 91st actor to play him.
I look in the mirror.
"The name's Bond...James Bond." I say to myself.
"Excuse me, Captain?" says Worf as he walks in.
"Ah, Mr Worf." I says hurriedly, "I needed to see you about an important mission that we have to do."
"'We', Captain?" he replied.
"Yes." I told him, "It seems there is a rogue faction on the Klingon homeworld who want to try and destroy the treaty between their world and the Federation, It is been led by Morbus."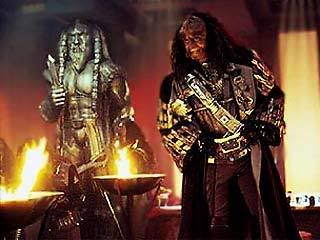 "He is a known troublemaker" stated Worf, "The Klingon High Council has tried to get him banished for years."
"That is true" I continued, "Nonetheless, he is gathering support, and both the Council and the Federation are starting to get worried."
"What will we be doing, Captain? Worf asks.
"We shall be infiltrating the faction so that we know all the members" I tell him, "That way, they can be rounded up, and Morbus' power base is weakened."
Worf looks closely at me. I know what he is thinking, as I had the same thought myself.
"Err..what about you, Captain" he inquires, "You will hardly pass for a Klingon. Is Doctor Crusher going to surgically alter you?"
The very thought gives me the creeps, but I can hardly tell Worf that.
"I'll just have some light additions by the
Enterprise
Theatrical Department." I say, "After that, I will look like a sufferer of Cheapmakeuponitis, the illness that Klingons had in the 23rd Century, when Kirk was around."
"We never speak of those dark days." Worf mutters to himself.
"I'll wear a hooded cloak." I continue, "If anyone sees me, Klingons will run a mile in case they catch it."
----------
A few hours later, we arrive at the Klingon homeworld; I have the cloak that covers my made-up face, and Worf has a typical outfit on for an underground faction; all dark. We go to Transporter Room 3 and get ready to beam down to a known area where the pro-Morbus group are.
Jadzia comes in.
"Good luck, Worfie." she tells him, and kisses him.
Beverly comes in and whispers a quiet "Come back soon." and blows a kiss before anyone notices.
We beam down.
To be continued...