Bev and I are going for a date in the holodeck. We have programmed it so that it looks like an authentic 20th century cinema.
We both enter the holodeck and pay at the box office with our money. The movie that we are scheduled to see is
'The Wizard Of Oz'
.
The man in the box office gives us a sneer and sends us in.
It's a real flea-pit of a location; why can't we have a more tidier cinema? Even the holes in the carpets look like they have holes in them.
Bev treads in a few unmentionable things.
"Jean-Luc." she whispers, "This isn't exactly err...."
"I know" I reply, "Let's see how it goes, and I'll give some instructions for Data to tweak it up a little."
Suddenly there is a blinding flash; the usual sort we get when invaders are coming aboard. It looks like trouble.
We can't get out of the holodeck or communicate with the Bridge.
"What's happened, Jean-Luc?" Bev asks.
"I'll soon tell you my pretty!" barks a voice from the screen.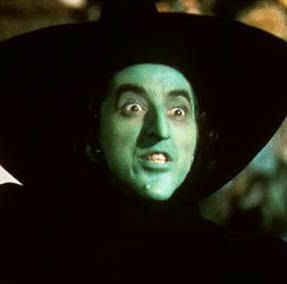 A green skinned figure looks at us. It's certainly not an Orion Slave Girl. Maybe it's what their mothers look like?
"You two are in REAL trouble now" she shouts, "That anomoly the
Enterprise
passed through has made me real and self-aware. From now on, I, the Wicked Witch of the West will be calling the orders."
"I'm the Captain!" I reply angrily.
"In name only!" she laughs with a mad cackle, as a winged monkey comes forward towards us both.
Bev screams and hides under the seat.
"I've locked the cinema doors while I tell you what will be happening now." the Witch tells me, "The Federation will be bowing to me when we get to a starbase.
This looks like trouble, until I remember the movie; I whisper to Beverly, who is still under the seat as the monkey is trying to attack her.
"Have you got the bottled water, Bev" I whisper. She points it out. As the Witch advances, I pour it all over.
She gives a horrendous scream, worse than the one Deanna gave when we saw an Elvarian mouse.
Gradually, the Witch disappears into nothingness; the holodeck doors open again.
"Beverly" I say with a smile, as we leave, "The next time we go one a date, a romantic film might be a good idea."