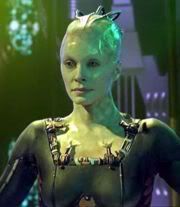 Guest Poster: The Borg Queen
This is always a tough time for the Borg; the Queens who rule particular areas and cubes are having their annual conference.
There are those that always want to say more than they want to, and others who think we should be more friendly towards other races and not just assimilate them.
We have no time for those type. The Borg are supreme! Assimilation is the answer!
Sorry, I think I was getting carried away there. This tends to happen just as the thrill of getting another race on our books gives me an excited feeling.
And then there is the Troi Borg Queen...
She is always the talk of the Conference water coolers. She is loud, disruptive, and wants to do things her own way. Now the Queen of cube Unimatrix 02, she comes from an alternate universe where the Borg rule everywhere. As a result, she is even more controlling than we are. Naturally, her primary target of assimilation is Deanna Troi.
We all sit down to discuss matters; this year, the Unimatrix10 Queen is Chairborg. Troi looks like she is waiting with a list of things to say.
"Article One is about the current state of Borg race assimilation." says the Chairborg.
Troi jumps in.
"Well, I say we are not doing enough!" she quickly speaks, "We need to take over the universe quickly and efficiently. Too many races are starting to fight back."
A few of the others nod their heads in agreement, however I rebuke her.
"BorgQueen Troi," I tell her, "You will address your remarks through the Chairborg. Do not have sudden outbursts, otherwise you will be ejected from the chamber."
She grumbles and quietens down. The Chairborg continues.
"While I do not welcome Troi's noisy interruption" she tells us, "She is in essence correct. The Race Assimilation Report shows we are 20% down on the previous year. More must be done with recruitment, persuasion and assimilation."
All nod their heads. Troi interrupts again.
"What about the
Enterprise
?" she asks, "Why are we not allowed to assimilate that? Locutus would be a great asset to our cause. We were even helping them with their Christmas party and lending our resident group
The Strolling Drones
to them for cabaret!"
"You will be silent!" the Chairborg tells Troi.
"If I may speak, Madam Chairborg?" I say.
"The Chair recognises the Queen of Unimatrix o1." she states.
"The
Enterprise
is not being touched," I tell the conference, "Because we have placed our agent Seven of Nine on board to learn aboard human ways. This will help us greatly in the future. Observing their party techniques has benifited the Collective greatly. In due course, Seven of Nine will be placed on the Federation ship that is lost in the Delta Quadrant."
"Thank you." says the Chairborg, all whisper sounds of approval, except Troi.
"What of Species 8472?" shouts Troi with annoyance.
"I would have removed you now." the Chairborg tells her, "Except that is the next item on the Agenda. What is the Report on how we are progressing against them?"
The Queen of Unimatrix 14 stands up. She is looking unusually nervous. The news is looking bad.
"I h-have to report." she stammers, "T-that at t-this moment in time, we are l-losing!"
She sits down slowly.
A shock goes round the room.
"How have we allowed this to happen?" says the Chairborg in a demanding voice.
"I guess they are better than us tactically, with stronger firepower" suggests the Queen of Unimatrix 05, "Besides that, we did start the war against them."
The Chairborg looks livid, snaps her fingers, and four drones come in and escort the Unimatrix 05 Queen away.
I think there may be a vacancy in that cube very soon.
"Meeting is over!" the Chairborg announces, "Carry on assimilating!"
----
Before we head off to our cubes, Troi and I have a drink of coffee together.
"Mark my words." the Troi Borg Queen tells me, "Sooner or later, I'll get the Enterprise, especially that Deanna Troi!"