Everything is running smoothly on the
Enterprise
right now, which is a sure sign that something nasty is about to happen.
"Incoming transmission, Captain." states Data.
"Who from?"
"I am unaware." he replies, "The signal from from a source that is encrypted. Shall we put it on the viewer?"
"Yes, Mr Data." I tell him, "What harm can it do?"
Sometimes I ought to remember these lines I write and never say them again. There is never an instance when 'what harm can it do?' applies.
A familiar figure appears.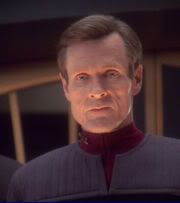 Luther Sloan, leader of the subversive part of Starfleet named Section 31.
"Hello Captain Picard." he says, "It is good to see you again. I am especially pleased to see Commander Riker and Counselor Deanna Troi sitting with you."
I remember the two of them meeting him when they went undercover last
December
. Unfortunately Sloan escaped. I knew he'd turn up again, like a bad Credit.
"I'd like to read you a little poetry, If I may, Captain." Sloan continues, "I'm sure you won't mind."
All of the Bridge crew look puzzled. What is this? Poetry night? The only time we usually have poetry on the
Enterprise
is when Data has to read one of his awful compositions, like 'Ode To Spot.' which drags on for 132 stanzas.
"I hope it's not 'Ode To Spot'" whispers Riker to me. Beverly says the same thing in my other ear.
Sloan begins reading.....
Midway upon the journey of our life
I found myself within a forest dark,
For the straightforward pathway had been lost.

Ah me! how hard a thing it is to say
What was this forest savage, rough, and stern,
Which in the very thought renews the fear

I recognise it as the opening six lines of Dante's
Divine Comedy
, from the Longfellow Translation. What is going on here? He's not going to read the whole of Dante is he?
"I'll see you soon, Commander." says Sloan, and his image disappears from the screen.
I turn to Riker.
"What is Sloan doing, Number One?" I ask.
Suddenly I notice that his chair is empty; for a second I think he has gone to get some donuts for himself from Ten Forward. Then I turn to my left; Deanna has vanished as well.
Two seconds later, I notice that Data has been switched off by Deanna, and behind me Riker has stunned other members of the Bridge. I'm the only one still up.
"What are you doing, Number One?" I ask.
"Taking over the ship, Picard." Riker replies insolently, "Deanna and I are running things from now on. We are taking the
Enterprise
to a meeting point where members of our Section 31 group can use it from now on. Other members of this crew have been locked in ther quarters. We shall order the others to do so that are currently in the corridors."
It all becomes clear. Riker said when he got back from the undercover mission that he and Deanna were subjected to some flashing lights in December that Sloan called Truth Lights. I think it must have embedded a sleeper in their minds that would change them when the verse was uttered.
I wish Sloan had recited 'Ode To Spot' instead.
"Come on, Picard." Deanna tells me, "You can be imprisoned in the SickBay. I guess you'll like that; At least you'll be with Beverly while we start running things from now on."
Why is it I can't exactly thank them for that right now?
To be continued...