Guest Poster: The Doctor
Why I end up having to fix everything for Picard and other other solids is beyond me. It just goes to show that us holograms are valued far more than they would have us believe.
As Commander Riker and Counselor Troi have been hypnotised with a sleeper code used by Sloan of the subversive Starfleet organisation Section 31, they have taken over the ship and locked everone away. They are taking the ship to a rendevous point where the
Enterprise
will be fitting with a cloaking device so it can do lots of evil things.
Picard has already told me that anaesthetic gas cannot be filtered through to the Bridge as that has been circumvented by the computer. I am the only way of sorting things out...as usual!
Beverly Crusher wishes me the best of luck; that's a first. Usually she assumes complete control in the Sickbay and only calls on me as a last resort. My superior talents are never called for.
Come to think of it, I was never invited to the
Enterprise
Quiz that was in Ten Forward. I would have done well in the 'opera' category.
Still, back to the present.
I walk through the door; as there are holoprojectors around, I can walk around the ship at will. Crusher only usually lets me do that in the night shift when she is asleep and the crew want me to give them a band aid or something trivial.
There is no one around, as the crew are in their quarters; I need to get to the Bridge and access the 'release' button for the doors that will get the crew out, and also to switch Data on.
I'm up to the Bridge door; this is it. I put my head in and take a peek; I want to be sure they don't catch and disconnect me. I'm writing a guide about opera this week, and don't want to lose it all.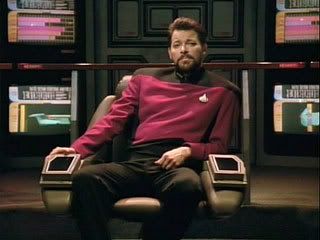 Riker is in the Captain's seat, and Troi is with him.
"How are we going,
imzadi
?" she asks him in a purring voice.
"Almost two hours to rendezvous, Deanna" replies Riker, who leans over to kiss her; they embrace.
This is my chance; I sneak in and reprogram the computer; all the crew's doors are released. I then rush over and switch Commander Data on.
Before they know what is going on, Riker and Deanna are swiftly caught by Data and the rush of Worf's security guards that come in.
"Well done, Doctor." says Picard, "You've saved the
Enterprise
. We are indebted to you."
I'll get switched off again soon enough, I imagine.
------------------
A few hours later, I talk to the Captain.
"What will happen to Commander Riker and Deanna?" I ask, "And the Section 31 people at the rendezvous point?".
"Somehow, it seems the Section 31 people know everything." he replied, "They had intercepted my message to Starfleet as to the events that happened, and had fled from the point the
Enterprise
was programmed to go. As for Deanna and Riker, they will undergo deprogramming by Doctor Crusher and Commander Data. They should be fine soon. Let's hope no one reads out Dante's
Divine Comedy
for a while."
Beverly Crusher enters the room. She talks to the Captain quietly about a date at the
Enterprise
cinema.
Saw XXXIX
is on. She then turns to me.
"Err, Doctor." she starts, "Will you mind doing the night shift five hours earlier tonight? I've got an umm.... appointment elsewhere."
I grudgingly accept; sooner or later, these solids will know how important I am!
-------------------
Charmed And Dangerous (Dari) has tagged me to ask which five bloggers I would take along on a desert island to stay there for one year.
This isn't easy.
I'll go for Ciera as she would be a good companion as she thinks like me. Nic is a great friend with a practical resolve. Miss Cellania is good person that would keep spirits up. Nurse Ratched would help with any medical problems and Secret Squirrel would keep everything in order to stop us going into a panic.