TWQ (The Weekend Question) asks about those tunes you keep humming:
What tunes have you heard took ages to get out of your head as you found you were humming them constantly?

My answer is:
Recently, I found this favourite of mine again on YouTube. As a result, it's been in my head ever since. It's
Space
singing
'Female Of The Species'

Another favourite has always been
Don McLean's
version of
'American Pie'
.
Now it's over to you...
But before you go...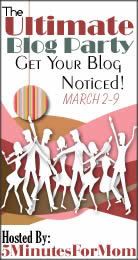 Take a look at the

'Ultimate Blog Party'

(see sidebar)

that is being run from the 2nd until the 9th March. It's a massive party with many, many people attending. There are prizes galore at the end of it all. The event is being organised by

5 Minutes For Mom

. Though mainly women are there, I've been informed that all are welcome. As a result, I have my tuxedo on, and am going to do a lot of circulating. Perhaps I should bring a bottle of Klingon bloodwine?

A very warm welcome to all my new visitors from the party. Pull up a seat. Data will serve you. I've told Seven of Nine you are not to be assimilated.

Get yourself along there, sign the Mr Linky and help make it even bigger!