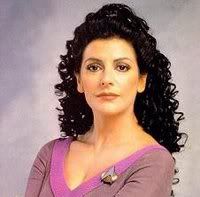 Guest Poster: Deanna Troi
It's hardly a fun time with Royalty on board!
Bev and I are effectively commanding the ship while escorting Queen Diana and her daughter Princess Nexa from their home planet of Wondawowman. The Queen's daughter Karena is receiving a prize at the Academy, and she wants to attend.
The Cappy has been forced to stay in the background, as the Amazons only recognise women as being in charge. That's a hoot!
giggle!

The Queen has enjoyed a lot of films in the
Enterprise
cinema, particularly
She
and
And God Created Woman.
Nexa has been more troublesome.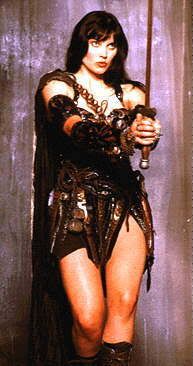 She has been practising fighting with holographic Amazons; she insists on having the Safety off; naturally, she still wins.
Nexa is a real predator; she is angry at her sister Karena for defeating her in the battle for Wesley. I hope she doesn't try and win him back.
She has looked at other crewmembers as potential mates. She was interested in Worf and Geordi, but Jadzia and Trisha made it clear they belonged to them. Though she was annoyed, imn the interests of Diplomacy, she went no further. She also actually asked me if Ro Laren had a mate.
I wonder what that meant?
I know that later on I saw Ro who was very red-faced after talking to the Princess. When I asked why, she said "Don't ask!!"
Later, Nexa walks up to Seven.
"Do you wish to be an Amazon of Wondawowman, Seven?" she asks her.
"No thank you," she replies, "The Borg will assimilate the planet, and we shall be Amazons then."
Nexa laughs.
"The Amazons shall vanquish all oppressors!" she tells Seven.
It's hard getting everyone to say the right thing; I don't always!
Giggle!
Bev and I keep telling them, "Don't say anything to antagonise them, don't mention Captain Picard or Commander Riker. It's a girls-only trip!"
-------------
We are having a formal dinner before the
Enterprise
arrives at Earth. Queen Diana asks me a question.
"That Picard person and the bearded fellow I saw when we arrived." she starts.
"Do you wish him and Commander Riker to join us at dinner, your Majesty?" I ask.
"Certainly not!" she replies with a horrified voice, "They may serve the meal as we eat; it seemed they had good waiter potential."
I manage not to giggle until she leaves.
I'm going to have a tough time telling Will and the Cappy that they are serving!
-------------
The next morning, the two are ready to beam down; the Cappy is still in the background, his face a picture of irritation after serving the night before.
He shouldn't have accidentally tipped the soup into the Queen's lap.
giggle!
To be continued...