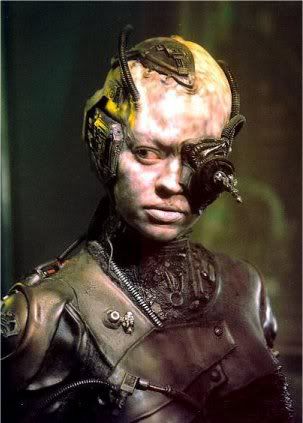 Guest Poster: Seven Of Nine
My Supreme Queen,
This is your servant Seven of Nine sending you another message from the
USS Enterprise
; I am updating you on the latest events that are going on.
It is a pleasure serving you as a representative, giving you an insight into human behaviour. I shall be honoured when you place me on the
Voyager
in the Delta Quadrant. Captain Kathryn Janeway sounds quite challenge.
The humans here forever look for something new to occupy their mundane lives; a holographic night club entertainer has been placed with them; he operates in the style they did four centuries ago. Why do they look to the past? They will find out that Borg singers are far better than holographic ones when we assimilate them all.
The Borg are supreme!
Not only that, Locutus and his crew insist on creating their own problems. A Deltan woman has been bought on the ship named Ensign Britney. She causes trouble frequently, and is often in the brig. This is what Locutus told me a few hours ago....
--------------
"I'd like to have a word with you, Seven." Locutus says quietly, and calls me into his ready room.
"What is it, Locutus?" I ask him.
He looks slightly strained when I say 'Locutus, but nevertheless carries on.
"You may be aware that we've had Ensign Britney with us a little while now." he tells me, "And despite our best efforts, she has been very troublesome; she chews gum, is disruptive and therefore is in the brig a lot. We feel she needs a firm hand to guide her and stop her straying off."
"You wish me to assimilate her, Locutus?" I ask.
He looks panic stricken, and nearly falls off his chair.
"No!" he tells me clearly, "Just keep her firm, and don't let her do anything wrong."
"Very well, Locutus" I tell him, and go to find Britney, who is in Engineering.
She appears to be wrecking an ancient method of transport with a strange device. I approach her.
"Please refrain from doing that, Ensign Britney" I tell her, and remove the device from her hands, "I wish to be your friend."
"But you're a Borg drone!" she exclains, "The only friend I had was Cadet Lindsay, and she's still in the Academy."
"You miss her?" I ask.
"Yeah." she tells me.
I walk up to her and whisper in her ear.
"If the Borg assimilate you and we do the same with Lindsay" I tell her, "You can be friends for a very long time...you'll have billions of friends."
She looks panic stricken.
"Oh sure, you can be my friend" she says quickly, "I'm sure we will get on well on the
Enterprise
."
--------------
And that's how it ended, my Queen. One thing, I must say. When we come to assimilate the
Enterprise
, I recommend we leave Ensign Britney out. Having her thoughts in the Hive Mind could well destroy the fabric of Borg society.
Until my next message, my Queen,
I leave you, your dutiful servant,
Seven of Nine