On a recent visit to
Deep Space Nine
, I was very impressed with the self-aware holographic lounge singer Vic Fontaine that they have there. I asked Captain Sisko if he could send us a copy of his program so we could install him om one of our holodecks.
-------------
Geordi and Data have been working on the installation and we are ready to go.
"Well, Captain." says Geordi, "As you know, Vic will be aware he's a hologram, like the EMH Doctor."
Fortunately, Vic won't have the annoying mannerisms of the EMH, but instead will be able to sing a lot better.
"Perhaps I'll be able to play my trombone in the band?" suggests Riker.
I hope not; that will empty the nightclub faster than a fire alarm or the sound of General Quarters.
The program is activated, and a holographic nightclub comes to life; the flashing sign, 'The Sands' is above, and characters are watching the stage. The band is playing and Vic is at the front.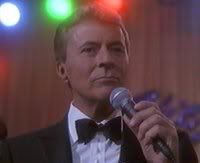 He looks over to us.
"Hi fellas!" he calls out, "Glad to be playing for a season on the
Enterprise
. Here's an opening number for you."
Come fly with me, let's fly let's fly away
If you can use, some exotic booze
There's a bar in far Bombay
Come fly with me, we'll fly we'll fly away

Come fly with me, let's float down to Peru
In llama land, there's a one man band
And he'll toot his flute for you
Come fly with me, we'll float down in the blue

Once I get you up there, where the air is rarefied
We'll just glide, starry eyed
Once I get you up there, I'll be holding you so near
You may here, angels cheer - because were together

Weather wise it's such a lovely day
You just say the words, and we'll beat the birds
Down to acapulco bay
It's perfect, for a flying honeymoon - they say
Come fly with me, we'll fly we'll fly away


Worf looks slightly annoyed.
"Is this holographic character going to do this every time we switch the program on, sir" he complains.
"Mr Worf." I tell him, "Vic will know how to run this program himself. Holodeck 6 will now bcome known as 'The Sands', and crew will be able to drop in whenever they are off duty to listen to Vic and his band play."
"It is no good for discipline." he comments to himself.
"Don't be a downer, Worfie." chides Jadzia, giving him a playful slap on the arm, which he appears to like, "It is good for the morale of the crew to have somewhere else to relax besides Ten Forward."
Vic tells the band to take five; this phrase leaves Data somewhat confused for a moment until he seaches his memory files. Then he gives an odd laugh.
"Hi everybody." says Vic, "Glad to meet you all. Don't forget, if there's any numbers you want me to do for you, just holler and the band will play them for you."
Deanna names a weird Betazoid song that no one has ever heard of; Vic looks puzzled.
"That's a tough one, Miss Troi." he says, "Still if Geordi puts it into my programming, the band and I will do it without a problem."
"How about 'Torn Between Two Lovers' instead?" comments Worf, with a sarcastic tone, "I'm sure that would be more appropriate."
"What's that supposed to mean?" shouts Deanna.
"Yes Worf." adds Riker, "I think that was uncalled for."
Worf and Jadzia leave with smiles on their faces.
I hope we're not going to have too much trouble at The Sands; people are supposed to relax, not open up old wounds!
Beverly reminds me to get a good seat at The Sands tonight.
"Bev" I tell her, "I think as Captain, I will always somehow manage to get a good seat!"