More troublesome passengers!
Can't we ever have any easy-going people who are just pleasant?
The
Enterprise
will be escorting the leader of the Wondawowman Amazons, Queen Diana and her daughter Nexa to Earth. They are to witness the Queen's other daughter Karena get an Academy prize.
Karena herself is no stranger to us, as Wesley Crusher has been told by the Academy hierarchy to serve her, as she is a Princess. As a result, she is making Wesley's life a misery.
That is a good point, anyway!
We are all in the transporter room awaiting our two royal passengers. Riker and I are standing in the background, as Queen Diana does not recognise men as leaders. Instead, Deanna and Beverly, who both have Command status will greet them.
Diana and Nexa beam on. I feel the instict to walk forward and greet them, but Riker wisely puts his and out and stops me.
"Greetings, Queen Diana and Princess Nexa." states Deanna, "Welcome to the Enterprise. I am Counselor Deanna Troi and this is Doctor Beverly Crusher."
The Queen smiles and greets them, while Nexa steps forward and looks at us men in the room with contempt."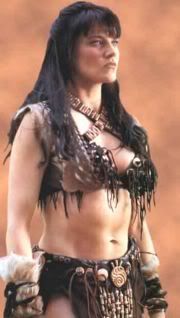 "Mother," she asks, "Why are these men in the room? They serve us no purpose."
"I am Captain Picard, Princess Xena....I mean Nexa." I tell her hurriedly, "I command this vessel."
Riker draws his breath sharply, as we both know I have said the wrong thing.
The Queen turns to Deanna with an expression as if someone has spat at her.
"You will remove these men from my sight." she says sharply, "I have no wish to see them on my journey to Earth."
We go out, and I see Beverly and Deanna trying to quickly placate the two of them. It looks like I need to stay in the background a lot in this journey.
A little later, I see Beverly, and ask her what happened.
"Everything is alright, Jean-Luc." she tells me, "Deanna and I have told her that we have given you a menial job of Instructional Pilot to the
Enterprise
, and that sometimes you think it more important than it is. We added that Deanna and I are the real people in charge. She was quite happy at that. Sorry, Jean-Luc."
"That's fine." I reply, "I'd better stay out of her way. You, Deanna, Jadzia, Seven, and Ro had better host things while us others keep quiet."
She smiles and gives me a peck on the cheek.
"Just because you're in charge, you can't go kissing the Instructional Pilot!" I tell her. We both laugh.
Having Queen Diana and Princess Nexa on board is not easy. We already have Seven of Nine, Ensign Britney. We just need the Borg Queen, Captain Beverly Howard and the Troi Borg Queen as well to make me head for the Escape Pods!
To be continued...