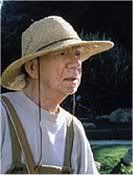 Guest Poster: Boothby
A lot of the Cadets round here at the Academy ask me questions like, "What was it like in the Dark Ages" or "What did dinosaurs actually look like?"
Whippersnappers they all are! I give them a heavy clip round the ear and tell them not to bother me while I'm cultivating my plants.
Still what they don't know how tough it was. I wasn't always a gardener and groundskeeper. Some of the Cadets think I maintained the Garden of Eden!
Years ago, I was in the Earth Navy. We cruised the seven seas in the ships we had.
Actually, I had quite a singing voice then, as did my fellow sailors on the ES Pacifica.
Ah, those were the days, we would sing about dames, and how there were nothing like them...
We've got sunlight on the sand. We've got moonlight on the sea. We've got mangos and bananas we can pick right off the trees. We've got volleyball and ping-pong and a lot of dandy games. What ain't we got? We ain't got dames! We get packages from home. We get movies. We get shows. We get speeches from our skipper and advice from Tokyo Rose. We get letters doused with perfume. We get dizzy from the smell. What ain't we got? You know (bad word) well. We've got nothing to put on a clean white suit for. What we need is what there ain't no subsitute for. There is nothing like a dame. Nothing in the world. There is nothing you can name that is anything like a dame. We feel restless. We feel blue. We feel hungry and in need. We feel every kind of feeling but the feeling never leaves. We feel hungry as the wolf felt when he met Red Riding Hood. What don't we feel? We don't feel good. Lots of things in life are beautiful but, brother, there is one particular thing that is in no way, shape, or form like any other. There is nothing like a dame. Nothing in the world. There is nothing you can name that is anything like a dame. There are drinks like a dame. And no books like a dame. And nothing looks like a dame. And nothing acts like a dame. Or attracts like a dame. There ain't a thing that's wrong with any man here that can't be cure by (don't know what they say). A girly female feminine dame.
What? Oh, sorry, I was getting carried away.
I've lost my train of thought; where was I?
Oh yes; when I left the Navy, I went into galactic telecasting. There was this new science-fiction story. I played a spaceman who explored Earth.
I told the producer at the time that it would be a disaster.
"I look a stereotype!" I told him, "Why do I have to wear these crazy antennas?"
He didn't listen; the young whippersnapper was only just starting in telecasting.
I tell you, it set Federation/Darlean diplomatic relations back for years. When they saw the show they were livid and broke off communications.
Darleans have antennas on their heads. The Andorans wern't too happy either. If I had blue skin in the show, they would declared war.
Where was I?
Right; after that show, no one wanted me in tv and I went back to the Navy.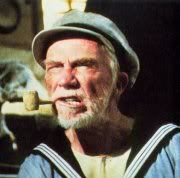 I suppose the other sailors thought I was some grizzled old crone; I always challenged the Captain. He thought my pipe contravened his 'no smoking policy'. He never listened to me; I didn't light it, and only had it there for effect.
Anyway, I saw a lot of gardens around the world, and went to Starfleet and applied for the position of Groundskeeper.
I got the job without question, as I knew so much about plants and flowers, and also that the Admiral who interviewed me had two mistresses hidden away.
So I've been here ever since; I've seen a few Cadets like Picard turn into a Captain. Janeway was another; I wonder what happened to her? She could never find her way around the Academy.
I'll have to go now; these flowers need attending.
-------------------
Oh,
Susan
wanted Picard to list six weird things about him; as I'm writing this here Journal, she'll have to settle for me:
1: I love to sing 'There Is Nothing Like A Dame' while attending my plants.
2: Anybody walking on the Academy grass qualifies for a clip on the ear from me.
3: That includes the Admirals.
4: I have given lectures on plant life.
5: I recommend to Admirals those Cadets who I think might make it.
6: I've invented a new wasp repellent that has earned me pots of money; the Academy dont't know about it!