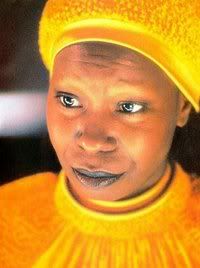 Guest Poster: Guinan
I'm getting a little worried about business here in Ten Forward. Over the last couple of days, the place has become very quiet. It used to be a very active place, but now it's more like people were expecting Data to give a poetry recital.
That's not it, of course; the real reason is Vic Fontaine and the Sands nightclub.
Ever since that continually running program was installed in Holodeck 6, people have flocked to see Fontaine and his nightly shows. As a result, Ten Forward is very empty.
It's no use going to Jean-Luc. He will just say that the crew need a place to relax and enjoy when their shift is over. They have a choice of where to go.
Besides that, he and Beverly go and get the best seats in The Sands every night.
The only way to tackle this is to talk to Fontaine himself.
-----------------
As I step in, Fontaine and his band have just finished rehearsing a number. He sees me, smiles and walks over.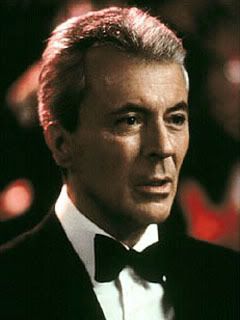 "Guinan!" he says with a smile, as he takes me hand and kisses it, "I've heard so much about you; I had no idea you were so beautiful."
This sure disarms someone who was about to complain about their business being taken away!
"Look, Mr Fontaine..." I start, "I need to talk to you about.."
"Call me Vic, I insist." he replies, "Come over here and we'll chat for a while." He calls to his band that they should take a break for ten minutes.
I tell Vic about the problem I am having, and he looks very apologetic.
"Guinan." he tells me, "I had no idea this situation would occur; if I knew, I would have set up another arrangement. Perhaps we can work together at this."
"How do you mean?"
"Well." he replies, "How would you like to be co-owner of the Sands as well as Ten Forward?"
I smile; Vic is a shrewd businessman. He would have done well in the 20th century; better than that guy named Gates.
"I like how you think, Vic." I tell him, "We could promote each other's business."
"Exactly!" Vic says with a smile, "The holographic bands could guest in Ten Forward, and any solid artists could come to The Sands."
"Quid Pro Quo." we say together, and seal the deal with a kiss.
"Careful." I say, "I am well over 500 years old."
"...and I'm a hologram!" Vic replies, "There are some unusual couples in the universe."
Vic goes up to the band, tells them something and they start singing.
That old black magic has me in its spell
That old black magic that you weave so well
Icy fingers up
and down my spine
The same old witchcraft when your eyes meet mine

The same old tingle that I feel
inside
When that elevator starts its ride
Down and down I go, round and round I go
Like a leaf that's
caught in the tide

I should stay away but what can I do
I hear your name, and I'm aflame
Aflame with
such a burning desire
That only your kiss can put out the fire

You are the lover that I've waited for

The mate that fate had me created for
And every time your lips meet mine....
I smile, and leave the club. Even a 500 year old can still charm them!
This visit of complaint didn't turn out too bad after all!