I gather the senior staff together for a meeting.
Beverly soon notices that I am wearing my tuxedo.
"What's the occasion, Jean-Luc?" she whispers, "Are we going for a date after the meeting? I'll get my ballgown and we can go for a dance in the holodeck."
"Sorry, Beverly." I reply, "This is business; our date will have to wait for a later time; you can keep that ballgown ready till then, though."
She smiles and sits down with the other staff.
"I want to announce that the
Enterprise
may be having a few visitors over the next few days." I tell them, a Galactic Event, named
The Ultimate Blog Party
is taking place this week, and we have to be on hand to greet anyone that passes through."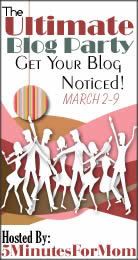 "Security will have to be tight." comments Worf, "There may well be people who are trying to take over the
Enterprise
."
I roll my eyes and sigh.
"Now that's just what we don't want, Mr Worf." I reply, "These people won't have visited a starship before and some may be a little nervous, not knowing what to expect. I want the atmosphere to be relaxed and friendly."
"Don't you think Worf might scare them off?" says Riker with a slight laugh.
"Are you saying my Worfie can't be friendly?" retorts Jadzia, "I can assure you he is kind, generous and can be very sociable."
"I know that." comments Deanna with a sly smile.
"What's that supposed to mean?" Jadzia answers back.
I can see how this is going to go if we are not careful.
"Let's all calm down a little." I tell them, "Remember you are all supposed to act as host to any visitors that come on board."
"As long as we don't get any Cardassians." comments Ro Laren, "I'm not going to talk to them; let Data look after them."
Data looks a little puzzled.
"Ensign." I say with a sigh, "I don't think there are any Cardassians at the party."
Why do these issues keep coming up. I'm glad I put some stress pills in my tuxedo.
What about Ensign Britney?" asks Geordi, "She could pose a problem and leave visitors with a bad impression of the
Enterprise
. I found some of her chewing gum on my computer terminal yesterday."
"Maybe we could put her back in the brig until the party is over?" suggests Worf.
"We can't put her there everytime people come to the ship." replies Deanna, "Already she's spent more time in the brig than she has in her quarters!"
"That's true." I say, "Mr LaForge, can you find her something to do in a classified part of the ship?"
"I guess I can." Geordi replies.
"What about Seven?" Riker asks me, "She might scare a few first time visitors as well."
"What are you saying?" snaps Seven. "The Borg are supreme; we can be the perfect hosts. Anyone who fails to get along will be assimilated."
"Seven!" I say despairingly, "What have I told you? No assimilating will take place by you on this ship. Just say a friendly 'Hello, welcome to the
Enterprise
." Do not mention assimilation, Borg supremacy, resistance is futile or anything like that."
"Very well, Locutus." she says.
"And DO NOT call me Locutus!"
I sigh, and know I'm not going to get any further; I'll have to get Beverly to give me some more stress pills this week.
"Meeting over." I tell them, "Don't forget to smile and welcome them."
What the new visitors are going to make of all these I dread to think.