It's been hard keeping out of the way while Deanna and Bev command the ship during Queen Diana and her daughter Princess Nexa's trip from the Amazon planet of Wondawowman.
They are going to Earth to see Princess Karena get a prize from the Academy.
----------
Well we are here now, and are about to beam down; Bev and Deanna are talking to them. The Queen looks at me then hands me her suitcase.
"You may take this down when we visit my daughter." she commands, "Don't speak unless you are spoken to."
I feel the urge to say something, but refrain.
We beam down, and are greeted by Karena and Wes; he is standing behind her as a servant.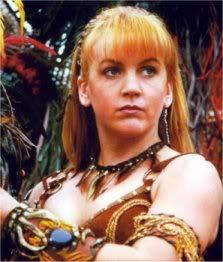 "Greetings, mother and greetings
sister
." says Karena. I notice that she has a sneer in her voice when she addresses her dark-haired sibling.
"Greetings, daughter." replies Queen Diana, "Congratulations on winning your prize."
Nexa says the same, but with a total lack of sincerity, as if she were selling something. She then looks at Wes with a tasty smile.
"I see you still have Wesley Crusher with you as servant, sister." continues Nexa, "If you tire of him, you can pass him to me. Wesley, would you like to join me on Wondawowman? It would be an honour to serve a Princess there."
Wesley looks flustered. It's a relief he doesn't have a ship to save right now; in that state, he wouldn't know where the Bridge was.
"Err...umm...." he starts.
Beverly steps in between them; I hope she is not going to say anything undiplomatic here in defence of her son.
"Though it is a great honour, your Highness." she starts, "My son has vital lessons here at the Academy, and is already honoured by having to serve your sister, the Princess Karena."
Nexa looks disgusted and strides off; at least Queen Diana was happy with it.
We all hear a lot of sounds; the prizegiving is about to begin.
The Admirals gather and announce the prizes. I notice they are for Sports Day.
"We are giving this special Award to the Princess Karena" he starts, "She achieved the remarkable distinction of being First in every Event, such as the Javelin, Discus and Track and Field.. The Princess demanded to go in the male events as well to show she could win and did so. Congratulations."
Karena goes to collect her prize; her mother is pleased, while Nexa utter a few Wondawowmanian curses.
What a relief another ship is taking the Queen and Nexa back! It was a long journey with those two on board. I suspect the other ship will go at Warp Nine if the Captain has any sense.