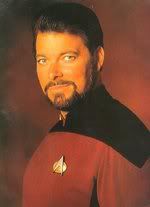 Guest Poster: Will Riker
Trying to infiltrate Section 31, the subversive secret group that operates within Starfleet has not been easy for Deanna and myself. We've been picked up in the dark alleyway by Sloan and his creepy assistant X2. With us are two people who want to be operatives. A Ferengi named Qwerty and a Cardassian named Gul Buket.
------------------
We are all in a briefing room right now; Sloan enters and smiles at us.
"What about all those things we've been promised, Mr Sloan?" demands Qwerty, "The pension plan, medical aid, video surveillance camera, listening device...."
"....As well as disrupter phasers and gilded knife." continues Gul Buket.
"Where is the cloaked mothership?" asks Deanna, making sure she is counted.
"...and the black hat and cloak?" I add on rather limply at the end.
"All in good time, my friends" answers Sloan, "We need to put you through a few little tests first."
Deanna and I look at each other alarmingly, then put our blank faces on.
He leaves the room and it is suddenly bathed in an array of lights, like the local disco. The only difference is I can't hear a DJ saying, "Here is the latest groovy sound from...."
We all wake up a little later; Sloan and X2 are looking at us two. Qwerty and Buket are missing.
"This has been most interesting." declares Sloan.
"What do you mean?" I ask him, "Where are Qwerty and Gul Buket?"
"Oh, they've gone up to the cloaked mothership." he answers, "They will be coached in how to be top Section 31 agents. It's a privilege we can't allow two infiltrators to enjoy."
"How did you know we were infiltrators?" asks Deanna.
I'll have to coach Deanna into not giving those answers in the future...if we have a future.
"Thank you for confirming that, Miss Troi." Sloan tells her, "We were actually able to find out through the Truth Lights we installed. It has a lot of useful features."
As he and X2 are in mid-gloat, Starfleet Security officers beam in with Worf and apprehend the two of them.
"What happened?" I ask Deanna.
"Before we left the
Enterprise
," she replies, "Worf suggested that I wear this tracker watch and activate if things get difficult."
"Well we've managed to get two top names of Section 31." I declare triumphantly, "Let's take them up to the
Enterprise
."
"Where are they, Will?" asks Deanna.
"They just vanished into thin air." a Security officer says dispairingly.
"They must wear the same tracker watches as the one I gave you, Counselor" Worf growls angrily, "The shop I got it from must be a Section 31 front."
"What was it called, Worf?" I ask.
"Errr...it was called
'The Spy Shop'
, sir."
----------------------------
We all get ready to beam to the
Enterprise
; none of us are very happy.
"Section 31 is a big organisation." says Deanna.
"I agree; and that Sloan is a slippery character." I reply, "Let's get back and enjoy the next few days, though."
"He shall not get away again." declares Worf, with a mood that someone has given him the wrong Christmas present.