This is definately something I'm not looking forward to.
A Starfleet Inspector is visiting the
Enterprise
to see that we are following the known political correctness guidelines.
"I thought political correctness had been destroyed in the 21st Century?" Riker asks, "They did it when it was blamed for the breakdown of all things. It took a hundred years to get the world back on track."
"That's true, Number One." I reply, "But some people high up in Starfleet don't read history very well, and it is in danger of making a comeback."
The Inspector beams on. He looks grumpy and is wearing an old 20th Century jacket and tie.
"Eee up!" he exclaims, "Those transportation devices make me right dizzy. I'm sure that I come out all jumbled up when I arrive."
"I'm Captain Jean-Luc Picard." I say. "and this is..."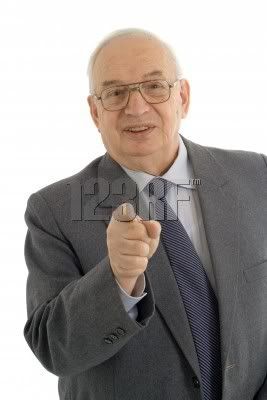 "All right, Picard!" the Insector says gruffly, while pointing at me,"I know you just want to get on my good side. Well that won't happen, as I'm Ted Allbright, a Political Correctness Inspector, and I don't have a good side."
"Let me show you around the ship, Mr Allbright." I tell him, "I think you'll find you have nothing to worry about here."
"So, Picard." he says, as we walk, "What are you doing right now on this ship of yours?"
"We're preparing for the
Enterprise
Christmas Party at the beginning of next month, when.."
"Well you cancel that for a start!" Allbright says with a sneer, "You need to call these Holiday Parties. What is that mistletoe you have stored over there?"
I smile, "That's so members of the crew can kiss the people they like. A very festive and romantic time."
"Send it back!" Allbright demands, "Don't you realise people could be sexually harassing others who did not wish to participate. Also, mistletoe is very rare."
"It was replicated!" I say with annoyance.
"Don't fob me off with your technology talk." Allbright tells me, "You can have a two foot high tree in the corner on the floor, artificially made, so it will not contravene any health and safety rules. There will be no lights on it. Also it will be called a Holiday Tree."
"Do you want us to cancel Christmas altogether?" I say sarcastically.
"That would be an alternative more in line with my way of thinking, Picard."Allbright agrees.
I sigh. There seems to be no getting around him.
"I'll tell them to cancel this Party of yours, Picard" says Allbright, "How do you work these gadgets of yours?"
Just then, Ensign Britney and T'Pol apporoach."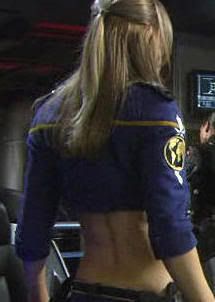 "Errr....are those two at the Party, Picard?" Allbright asks me.
"They would have been." I reply, "But now..."
"Oh, I'm sure we can forget about the political correctness" he says, "We are all meant to have a little fun at Christmas time....err...could you get me a ticket for your Party?"
"I'll send one to you, Mr Allbright." I tell him, "But I don't think Ensign Britney or T'Pol are your type."
"Wait till I get them under the mistletoe!" says Allbright, with a dig in my side with his elbow and a dirty laugh.
Allbright gets ready to beam off. I whisper to Riker.
"Make sure his invitation arrives AFTER the party, Number One" I tell him, "We can't have him running after Britney and T'Pol."
--------------------
Author's Note:
See the previous post for all the details of the
Enterprise Christmas Party
, due to start on 3rd December.