When travelling at Warp Nine to the nearest Starbase, one doesn't expect anything to go wrong.
After all, all we want is a little R&R.
Suddenly, the computers close down, all the lights go out, and the
Enterprise
stops, leaving the ship to float in space.
The Bridge is in total darkness; I get up and promptly fall over, as I did not see the slight floor ridge in front of me.
"What's going on?" I call out, although there might as well not be anyone on front of me.
Suddenly there is a slight light; Data is glowing.
"What have you done, Mr Data?"
"It is an emergency fitting that Noonian Soong, my creator had fitted. In the event of being in a dark situation, my skin was designed to glow."
"I haven't heard of that before." I reply.
"I had only remembered this when I recently had a Level One Diagnostic after Sid had repaired me. This fact had been omitted for some years."
"Well, now that you glow." I say, "We can stop bumping into each other on the Bridge and find out what is going on."
"I believe I know what it is, Captain." Geordi tells me, "I think the ship blew a fuse."
"What!" comments Riker, "You mean a Federation Galaxy-Class starship can stop working if an old-fashioned fuse happens to blow?"
"Err..yes, Commander." he replies, "Although a 24th Century fuse is much stronger than the ones we used to have hundreds of years ago."
"Woe betide a Federation vessel if it is engaged in a galactic battle and the fuse blows." I say drily.
Geordi opens a tiny box on the
Enterprise
circuitboard and takes something out of his pocket.
"I always carry one of these little fellas with me." he says proudly, "You never never know when you might need one.
"Perhaps we ought to have some candles in the back as well?" I suggest, sarcastically.
"Oh, we've got them as well." Geordi states matter-of-factly, "Do you want me to get some out."
"No!" I reply sharply, "Just put the fuse in."
Geordi complies, and all the lights come on. The computers are operating, and the engines start functioning again.
"There we go, Captain." he says happily, "Everything is all right again."
"Good, Mr LaForge." I say, "Please bring a box of fuses and put them under my seat. If we do battle against the Borg, I want to be ready."
------------------
Author's Note:

The
Enterprise Christmas Party
is awaiting your entry! For all the details, see part of the TWQ post last weekene.
------------
And to all those who celebrate it.......Happy Thanksgiving!!
--------------
The wonderful
Nina
has given me this Award below: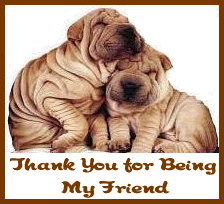 Nina, it's my pleasure and honour to be your friend. Thank you so much!