Guest Poster: Ro Laren
This weekend, I'm going on a Maquis Weekend. It gives me the chance to look up a few old friends, and catch up on the latest gossip about who is with who and how long for.
I must admit, some of the more extreme elements of the Maquis have a poor opinion of me, as I still am part of Starfleet, and have not quite, as they did, when the Cardassian Alliance was formed.
However, some of the others like me, as they see me as their 'girl on the inside', able to supply them with information.
The extremists think I just want to have my cake and eat it.
Well, as Deanna Troi might say, as long as it's chocolate.
-----------
I've beamed down, and everyone is chatting to each other, saying disparaging thing about the Cardassians and how they managed to cause trouble. I join in, saying the
Enterprise
stopped Gul Buket, a tough Cardassian from turning a Bajoran planet into a Cardassian vacation complex. That receives a lot of cheers and I get a free drink.
I'll have to think of a few more stories like that.
Shortly, Jalam, one of the more extreme leaders of the Maquis approaches me.
"Ah, how is our little weekend Maquis operative?" he asks.
Another sly dig, I think.
"I have someone I'd like you to meet, Ro." he tells me, and leads me into a special room.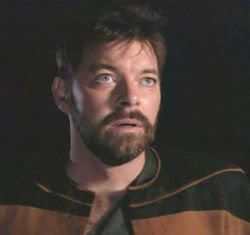 "Commander Riker?" I ask.
"In a way." says the lookalike, "I was created in a transporter accident many years ago. You may call me Thomas, which is my middle name."
"And you have joined the Maquis?"
"Yes." he replies, "We want you to help me in a special mission."
"Which is?" I ask.
"I want you to go back to the
Enterprise
with Thomas." says Jalam, "And replace Will with Thomas."
"It'll never work." I say incredually, "Besides, I'm a friend of Commander Riker and I'd be beteraying him and Starfleet."
"It's not a request, Ro." Jalam says solemly, "If you don't..."
Suddenly I am beginning to see the dark side of the Maquis. As I only just visited occasionally, I haven't been aware of their more sordid activities. Their cause may be valid, but does the end justify the means?
Did I get that right? I'm never sure if I'm saying that back to front.
Jalam was known to be one of the very most extreme figures of the Maquis. Do the majority of leaders know about it?
"You're going back NOW, Ro." says Jalam, "You're taking Thomas with you!"
--------------
Before I can say anything to the more moderate members, I am bundled into the
Da Vinci
shuttle with Thomas, and we are on our way back.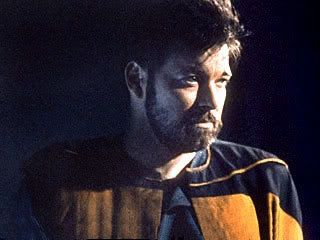 "Don't worry, Ro." says Thomas, "As your new Commander, I'll treat you well for giving me a lift to the
Enterprise
."
Things are looking decidely tricky right now....
------------------------
Author's Note:
I'm still waiting for more entries for the
Enterprise Christmas Party.
See the previous post for more details.
Latest: The deadline date has been extended to Friday 30th November.