Guest Poster: Ro Laren
I'm in a right pickle now, as one could say.
While going on a Maquis weekend seminar, I have been chosen by Jalam, one of the most extreme members of the organisation to take Thomas Riker back to the
Enterprise
.
The intention is to replace Commander Riker with his duplicate, Thomas Riker, who was created many years ago in a transporter accident. Thomas Riker has joined the Maquis. Jalam has threatened me if I don't comply.
------------
You could say it's a rock and a hard place, whatever that means. I will be denounced as a traitor by Starfleet if I manage to reveal him or not. I could be threatened in unspeakable ways also if Jalam thinks that I have not complied.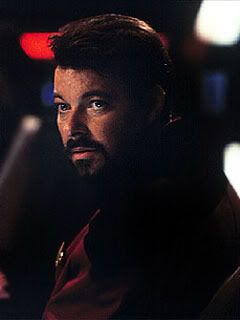 "Not long to go, Ro." says Thomas as we get nearer to the
Enterprise
, while travelling in the
DaVinci
shuttle, "In about ten hours, I will be the new Commander of the
Enterprise
. I'll find a way to get Picard out of the way, and the flagship of Starfleet will then be under Maquis control."
"Do..err.. you think we're being a little extreme, Thomas?" I ask, "After all, the Maquis is really supposed to sabotage Cardassian outposts, not the Federation."
He gives a manical laugh, as all slightly despotical people tend to do.
"If you like, Ro." he says firmly, "I can put you in the same airlock as Picard when it comes to the time of disposing those in my way."
This Riker is seriously one dilithium crystal short of a warp drive.
I'll have to deal with him before he gets to the
Enterprise.
If I can signal a moderate Maquis vessel, they will pick him up and arrest Jalam for his extreme activities.
I resort to the best way possible; I use my feminine wiles.
"Thomas." I say softly, "What
can
we do on the
long
journey to the
Enterprise
?"
While I say this, I kiss him softly. I also feel sick for having to kiss someone so appalling.
As we do, my arm outstreches, and I press the communications signal, adjust it to the Maquis code and see that a distress message is sent out. Riker is too busy enjoying me to notice..
----------
Ten minutes later, a Maquis vessel shows up and beams us off. I explain to the moderate commander, and he arrests Thomas.
"We will go and arrest Jalam as well." he tells me, "We've had our eye on him for a long time. The Maquis shouldn't be infested with those type."
"You've made a mistake, Ro." says Thomas, as he is led away, "This will go a lot higher. Certain sections of the Maquis will not forget what you have done."
-----------
I am beamed back on to the
Da Vinci
, and soon arrive on the
Enterprise
, to be welcomed back by Captain Picard and the
real
Commander Riker.
"Had a good time?" asks Riker, "It wasn't too boring on the long journey here in the shuttle, was it?"
I give a slight smile.
The things I do for Starfleet!
------------------
Author's Note:
Don't forget, the deadline for the
Enterprise Christmas Party
is extended to
Friday 30th November
. See last weekend's post below TWQ for details. I want your Party entry!