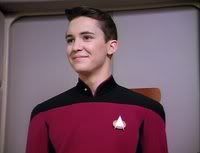 Guest Poster: Wesley Crusher
My honeybunch, Karena, who I am engaged to, has given me permission to go shopping, instead of do housework.
This is because I have to look for Christmas presents suitable for her.
I am currently looking around Starfleet Mall. This is very difficult. Just what does one buy as a present for an amazon like Karena?
"You have the afternoon to look for some good presents for me, pumpkin." said Karena to me a few hours earlier, then packed me off here. If I tell her I couldn't find anything, I'm going to get a sharp jab with that notorious spear of hers.
---------
After a while, I'm starting to get desperate. I've looked in endless shops, but they have typical woman's wear and gifts. When I asked them what they have for an amazon, all I got was laughed in the face. One sales assistant even called his colleague over to hear me say it again, so they could both enjoy the laugh.
It's harder walking around a Mall than it is in the Byzarian desert in the middle of the day.
Suddenly I see a tiny shop in the distance.
It has a message underneath.
"Everything you need for an amazon."
This is just what I want. I see a woman at the counter, all decked out in amazonian gear. She looks firmily at me.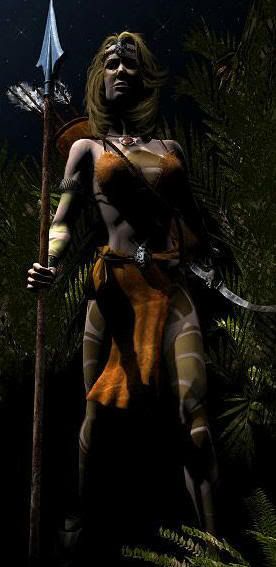 "Get out." she says, "We don't serve men."
"But...."
"Listen," she tells me, "We only serve women who are, or wish to become amazons."
"My fiancee is an amazon." I reply, "And I need to buy her something for Christmas."
Her attitude changes as she hears this.
"If you're buying for an amazon, I guess we can serve you." she tells me, "I'm Helena; what is it you want?"
"Well.." I start, "Had this shop used to sell all sorts of things many years ago?"
"Yes." replies Helena, "We amazons took it over, decided to keep the name, and specialise only in items for people like us. Now what do you want?"
"I suppose a new spear would go down well." I tell her, "The one Karena has must be going blunt with the prodding she has done."
Helena picks up a particularly vicious looking spear; I agree with Helena that it is ideal, and look around for something else.
I also get Karena an extra sharp knife, a new amazonian skirt and a light, but highly tough warrior breastplate.
"You must have quite a fiancee." Helena tells me, as she wrap up the gifts.
"She is." I reply, "I love my honeybunch."
Helena winces at that remark, and I decide to leave quickly.
----------------
Author's Note:
Don't forget to send your entries in for the

Enterprise Christmas Party

. All the details are at the bottom of the TWQ on 17th November
.
----------------
I've also received two Awards!
The first is the Winning Attitude Award from
Amanda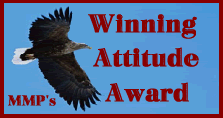 Thanks so much for this wonderful gesture and your testimony. I have pleasure in passing this on to
Linda
who consistantly produces a super blog, which is always so good to read.
Secondly, I have the Colors Of Friendship Award from
Serina Hope
. Thank you Serina for this beatiful Award. It means a lot.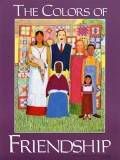 I have great pleasure in passing this on to my friend
Nina
. She is a successful author and good friend, whose latest novel, Darwin's Paradox has just been released.