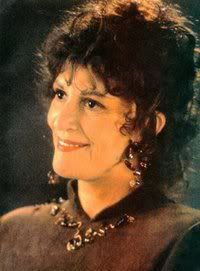 Guest Poster: Lwaxana Troi
I'm meeting my blessed daughter Deanna at Starbase 12. I'm relaxing in my my private Ambassador suite.
One has all these perks in my position!
"Hello, mother." says Deanna as she enters, "It is good to see you again."
"As it is to see you, daughter." I reply.
I sigh.
"What is it, mother?" Deanna asks.
"I'm looking at the third finger of your left hand, my darling daughter." I tell her, "As yet, it is bare."
"MOTHER!" exclaims Deanna in frustration.
"That Will Riker still hasn't given you an engagement ring." I continue, "I was hoping that you would be married soon, and you would present me with you first child."
"Eventually." she replies.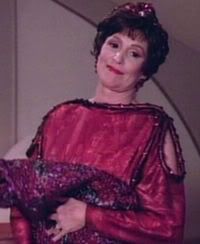 "Well, daughter," I lecture her, "You're not getting any younger, and if you don't start insisting to Will that you want to get married, he may look elsewhere."
"What are you suggesting?" says Deanna.
"There are plenty of young women on the
Enterprise
." I tell her honestly, "They would all like to be married to the handsome Commander of a galaxy-class starship. If you're not careful, before long, the only person who might be attracted to you is Boothby is Academy gardener."
"Is that all you want to talk to me about, mother?" Deanna asks with impatience.
"Of course not, my darling." I tell her, "I just want to tell you about the wedding arrangements."
"WHAT wedding arrangements?" she replies.
"You, of course, my sweetest." I continue, "I have spoken to Florzil the Florist, and she will provide the flowers at a good discount rate. Davak the Vulcan Caterer will do an excellent buffet if we book early enough. I happen to know his sister, so I know we could get a discount there as well. Not only that, I can get a discou..."
"Stop it mother!" shouts Deanna, "There will not be a wedding until Will and I agree."
"Does this mean I have to cancel the bookings with Florzil and Davak?" I ask.
"Yes!" Deanna replies flatly.
"....and the disco?"
"YES!" Deanna answers.
"I tell you what I'll do, my darling." I tell her, "I'll keep the bookings on standby, just in case you decide to get married. You never know when he'll ask."
"Goodbye for now, mother." Deanna says with a sigh, and leaves.
Ah, my darling daughter; when am I going to get a grandchild?