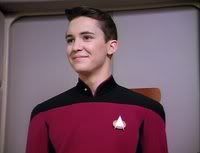 Guest Poster: Wesley Crusher
Gee, things do seem to be in a fix!
Captain Picard has suggested that we tell Karena, my fiancee, that another girl has fallen for me. It might slow down the marriage, as Karena and her mother, Queen Diana are anxious to rush it through.
The
Enterprise
is on it's way to Wondawowman, where Mom can talk to the Queen about the marriage.
We have thought about using Ensign Ro Laren as the girl who has fallen for me.
----------
Mom, the Captain and myself are talking to Ro. She is looking worried.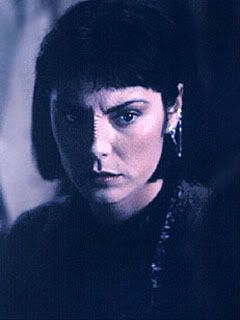 "This sounds all very dangerous." she says, "I don't like the look of that spear Karena has. She will accuse me of stealing her fiance."
"You don't have to be amorous to Wes." says Mom, "Just tell her like that you care for him deeply, and would like him to give you a chance before he marries Karena."
"That sounds VERY risky." Ro comments, "I can see that spear coming through me within seconds of me saying that. However, a Bajoran is always a risk taker, so I'll do it."
"Thanks, Ro!" I say, and give her a peck on the cheek.
"Careful!" Ro exclaims, "If Karena had seen that, we would have been in the soup!"
--------------
Ten minutes later, we are setting it all up. I am walking to Ten Forward with Karena when Ro approaches me.
"Hello, Wes, hello Karena." Ro starts nervously, looking at the spear, "Errr..you may not know me, Karena, but I'm Ro Laren, and I care a lot about Wes."
"Oh yes?" Karena replies aggressively.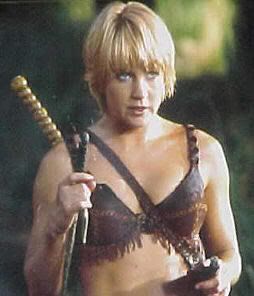 "Err...yes." continues Ro, "So much so, I asked him to be with me instead of yourself. I said that the wedding may be too rushed, when he ought to know there are women like me who admire him as well."
"I see." Karena answers, with her hand firmly gripped around her spear.
I'm getting nervous. Mom is probably standing by in case I have to beam Ro to SickBay.
Karena turns me.
"I was unaware, Wes." she tells me, "That you had followed our planet's pre-wedding rituals so closely."
Now I'm confused; I hear her say more.
"As you know, the Life Servant-to-be must present to his bride-to-be with the woman who he has turned down in order to be with her. I'm so happy, Wes, that you have turned down this woman to be my Life Servant."
Karena hugs and kisses me, then turns to Ro.
"Thank you, Ro Laren." as she hugs her, "You have played your part well in this tradition."
Ro looks baffled, thanks Karena, smiles at me, and leaves.
"Well, darling Wes," Karena says, "We are almost at Wondawowman; there our mothers can discuss the wedding arrangements."
I don't think things worked out as planned.
To be continued...