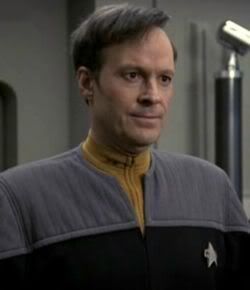 Guest Poster: Reg Barclay


What did I let myself in for?
Seven Of Nine has ordered that she and I go on a d-date at The Sands holographic nightglub so that she can start a relationship and learn about human behaviour.
I-I was so t-taken by surprise I could not say no; as the date is tonight, I'm p-panic stricken.
I talk to Deanna. She is always a good person who can help me.
"You do have a problem, Reg." she says, "Why don't you just be yourself? I'll admit that Seven isn't your average woman, but she is a human under all those implants."
"I s-see what you mean, Deanna." I reply.
"Just compliment her, Reg." she continues, "Don't think she might assimilate you when when the night is over."
This makes me even more terrified. Deanna tells me not to worry, and I leave her office.
I'm sure I heard the sound of Betazoid laughter after I closed the door.
------------
A few hours later, I show up at Seven's door with a bunch of flowers. She opens the door.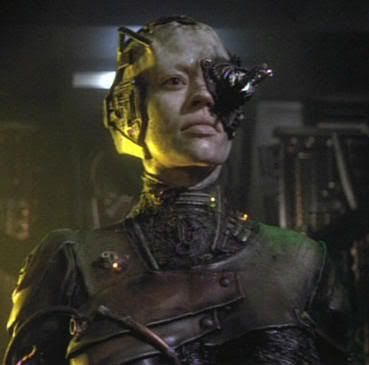 "Hello Reg Barclay." she states firmly, "What are these flowers for?"
"T-They're for you, S-Seven." I say hesitantly, "A man likes to give a woman flowers, especially on a first date."
This provokes some anger from her.
"I am not a woman, but a member of the Borg." she dictates, "The Borg are supreme."
"Y-y-yes" I reply, "But you are learning about human behaviour."
Seven considers this.
"You are correct, Reg Barclay." she says, "Thank you for flowers,"
"Y-you're welcome, Seven." I tell her, "You look very err.... pretty tonight."
-------------
We make our way to The Sands, where the hologram Vic Fontaine is playing a set tonight. Everybody stares at us in amazement.
"Stop staring at us, or you will be assimilated!" Seven tells them.
I must admit, I smiled to myself about this one.
Vic Fontaine sings a couple of numbers and comes over to us.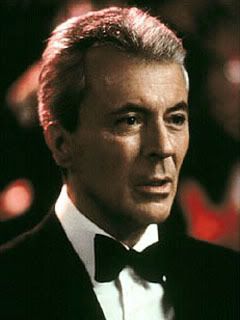 "Hi, lovebirds" he says to us, "It's always a pleasure to see romantic couples here at The Sands."
I go bright red, and Seven stands up.
"We are only on our first date." she tells Vic "We are not yet 'lovebirds' as you call it."
"Whoa!" he replies, "I'm sure you two just need a song to get you started."
He signals the band, and they play 'Strangers In The Night.'
Strangers in the night exchanging glances
Wondring in the night
What were the chances wed be sharing love
Before the night was through.

Something in your eyes was so inviting,
Something in you smile was so exciting,
Something in my heart,
Told me I must have you.

Strangers in the night, two lonely people
We were strangers in the night
Up to the moment
When we said our first hello.
Little did we know
Love was just a glance away,
A warm embracing dance away and -

Ever since that night weve been together.
Lovers at first sight, in love forever.
It turned out so right,
For strangers in the night.

--------------
Later, Seven gets up to leave with me.
"This has been a satisfactory date, Reg Barclay." she tells me, "We shall have to decide where to go for our second date."
I start to look panic stricken.
"Err..w-well, S-Seven." I tell her, "Maybe we w-will someday when we've g-got the t-time."
"We shall make the time." Seven replies, "Incidentally, when I mentioned to Commander Riker about our date, he started talking in baseball terminology about first base and second base. Do you know what he meant?"
I panic again.
"I-I really h-have n-no idea." I manage to reply.
Seven kisses me, her eye implant almost poking my eye out.
"Goodnight, Reg Barclay." she says.
I stagger to my quarters and manage to get to bed before I pass out.